Tuesday, February 4th, 2014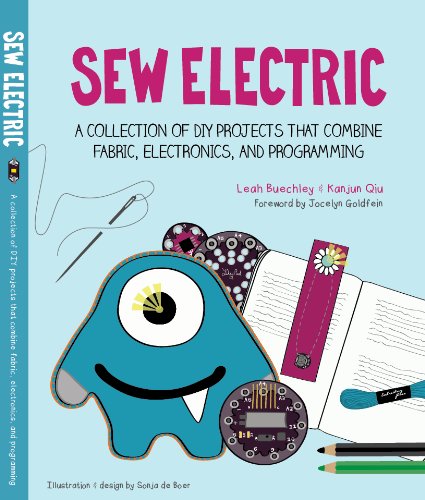 Leah Buechley, the creator of the LilyPad Arduino and my former advisor, recently published a great new book based on that platform, together with Kanjun Qiu and Sonja de Boer. Sew Electric is a collection of DIY e-textile projects that introduce electronics and programming through textile crafts. The projects include a sparkling bracelet, a singing monster, a light-up bookmark, and a fabric piano. Through these activities, readers are introduced to the fundamentals of electronics and programming as well as craft and design practices. The projects are beautifully illustrated and the instructions are clear and detailed. This is a wonderful resource for showing potential uses of electronics and the Arduino platform, specifically in ways that appeal to audiences not traditionally associated with these technologies.
I was privileged to work with Leah for a number of years and am always impressed with her dedication, ideals, and accomplishments. Zoe and I put together this interview to ask Leah about the new book and her thoughts on technology:
How was the idea of the book born and what's its main aim?
We want the book to get people excited about electronics and programming. We hope it will help people play, tinker, hack, and learn.
There are very few engineering resources that are appealing to young women and girls. We wanted to create an electronics introduction that looks and feels different from anything else that's out there.
In terms of the history, my student Kanjun Qiu built a series of lovely LilyPad projects & wrote DIY tutorials for them for her master's thesis. In collaboration with NCWIT (the National Center for Women and Information Technology), we tested the tutorials with kids and teachers and got lots of positive feedback. We decided to publish the series as a book and website to make them more visible and accessible. We'd like to connect to as many people as possible.