Tuesday, January 24th, 2017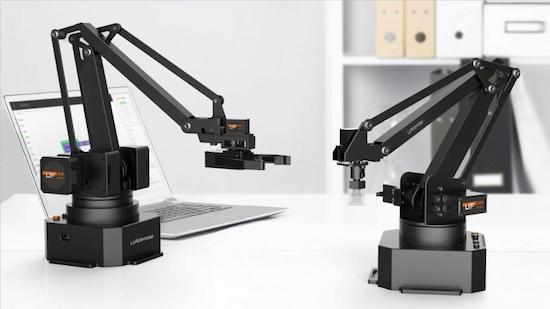 Need a hand? The UFACTORY team has got you covered with the uArm Swift, an open-source robotic assistant for your desktop.
The four-axis uArm Swift is a smaller and sleeker version of the company's original device from 2014. Based on an Arduino Mega, the robot is capable of lifting 500 grams (1.1 pounds) with a working range of 5 to 32 centimeters (2 to 12.6 inches).
UFACTORY has launched two different models of the consumer-friendly arm on Indiegogo. Whereas the basic model is perfect for beginners and those looking to tinker around with robotics, the Swift Pro is designed for a more experienced Maker crowd with a stronger motor, more precision, and greater versatility. It also boasts position repeatability down to 0.2mm. (more…)