Tuesday, May 5th, 2015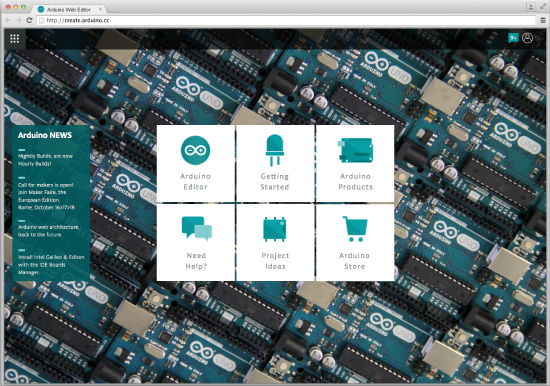 We always stress the fact that Arduino is not only a matter of hardware. Arduino has two other important pieces, the software and the community. We recently wrote about an improved Arduino Software (IDE) and how we moved from nightly builds to hourly builds, thanks to the help of our programmers and contributors. Now we want to add more power to the community and its capacity to create amazing projects.
In the past year we have been incredibly busy designing a new Arduino web-based tool, Arduino Create. It's an important step in the Arduino ecosystem that (we hope) is going to change the way you interact with your projects and the community.
Over the years we gathered a lot of feedback both when running workshops in schools and maker spaces, and when reading comments on the Forum and other social networks. We understood we needed to provide the Arduino community with a more modern and flexible tool to write code, a more integrated way of accessing content and learning while doing, an easier way to setup and configure tools and boards, and a better way to share Arduino projects.
More and more products traditionally delivered as desktop apps are being moved to online platforms, and we see an opportunity in this. Arduino Create is a set of online tools that will make working with Arduino even more seamless and smooth.
First of all you will be able to write code and upload sketches to any Arduino board directly from the browser with the Arduino Web Editor (IDE), without having to install anything. Your Sketchbook will be stored on the Arduino Cloud and will be accessible from any device. The Getting Started app will allow you to easily configure and setup tools and boards available around you. Services provided by partners such as Temboo will be just one click away and better integrated with your workflow.
Arduino Create will simplify building a project as a whole, without having to switch between many different tools to manage the all the aspects of whatever you are making.
In this past year we focused our effort mainly in the Arduino Web Editor, but we really want to concentrate on content next, providing you with a curated set of projects and tutorials to get you inspired.