Monday, October 17th, 2016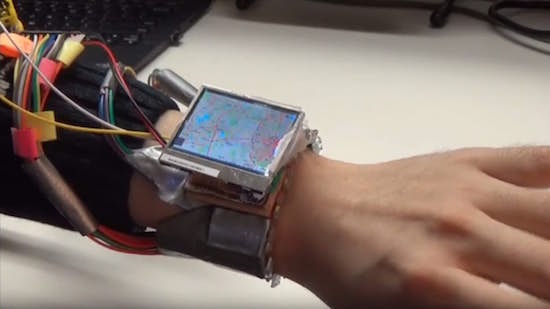 Although smartwatches were designed to be an easy-to-use alternative for your smartphone, interacting with their touchscreens still requires your opposite hand to be free. So what do you do when you're carrying a bag of groceries or holding onto a bus handle?
This is the problem a Dartmouth-led team set out to solve with WristWhirl, a smartwatch prototype that uses the wrist wearing the device as a joystick to perform common touchscreen gestures with one-handed continuous input, while freeing up the other hand for other tasks.
WristWhirl was built using a two-inch TFT display and a plastic watch strap equipped with a dozen infrared proximity sensors and a piezo vibration sensor, which is connected to an Arduino Due board. Commands are then made by moving the hand as if it were operating a joystick, while a finger pinch turns the sensors on/off to indicate the start or end of a gesture. (more…)