Come and meet Arduino team at the Genuino booth in Rome!
—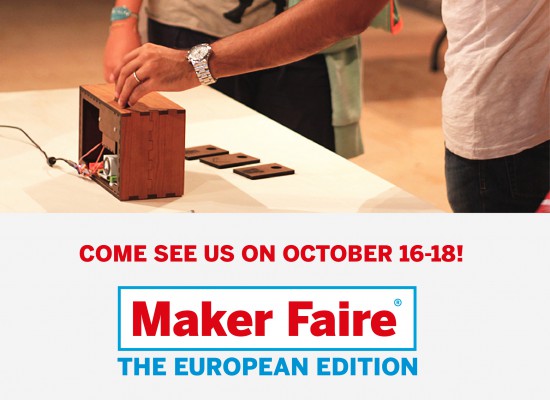 From October 16th to 18th, most of us will be participating to the third edition of Maker Faire Rome. We're setting up an amazing booth showcasing Genuino boards, Arduino Create, Casa Jasmina installations, educational projects from Creative Technologies in the Classroom (CTC), the new Genuino Starter Kit and much more!
We'll be at Maker Faire Rome all three days at our new Genuino booth, right next to the Maker Store where, for the first time, you'll be able to purchase Genuino Uno and Genuino Mega!
Take a look at the map below to see where we are (in front of Pavillion U) and click on it if you want to download a PDF version.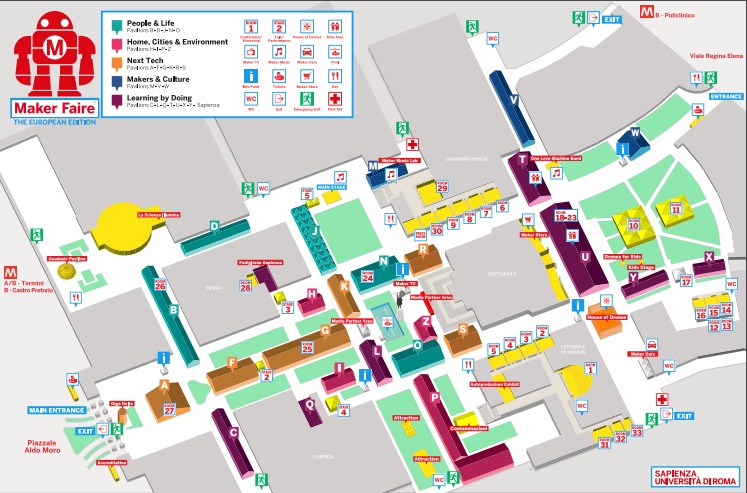 Here's a little preview of what's new at our booth:
Genuino Modules
The Genuino Modules aim at providing the user a breadboard-less experience in building interactive electronic systems. The family of products contains a Hub, a Shield and umpteen number of individual modules. The Hub is a microcontroller board by itself, based on the ATmega32u4. The Shield is an add-on board that can be mounted onto another board (like Uno). The modules can be used by connecting them directly to the Hub, or to another Genuino or Arduino board using the Shield.
Eslov
The Eslov project is Genuino's open-source, smart modular development platform made of a hub that connects to a computer, and a series of smart blocks. Each block features different functions, from analog sensors (like LDRs or potentiometers), to gyroscopes, accelerometers or even digital servo motors.
The different blocks automatically identify themselves in the Visual IDE when plugged to their hub. You can then virtually connect the blocks to one another by drawing pipes between sensor and actuator blocks. Without programming a single line of code, it's possible to build complex prototypes like a seismic detector, a pet tracking device, or your own fitness band. Each block comes with a default firmware ready to run as part of the Eslov platform, but it is also possible to use it in combination with any of the existing Genuino or Arduino boards as a smart device connected via I2C.
Arduino Create 
Arduino Create is a platform that simplifies making a project as a whole, without having to switch between many different tools to manage the various aspects of whatever you are making.
You can write code and upload sketches to any Arduino & Genuino board directly from the browser, store all your sketches online, and access them from any device. The web-based software (IDE) offered by the Arduino Create platform is always up-to-date, including the latest Libraries and Cores, without having to install anything. Boards around you are automatically available in one single dropdown. You can add Schematics and Layout PNGs to your sketches, so that you have in one place all the core elements of your project.
During the three days you can also play with some cool interactive installations, among which:
Colour Theremin
The theremin is a musical electronic instrument that plays monophonic melodies by hand gestures. In this version, Colour Theremin creates a color 'symphony': its intensity and shade are controlled by the movements of hands. The installation by Simone Majocchi uses the FastLED library by Daniel Garcia and Mark Kriegsman and it's running on a Genuino Uno, an LCD shield, two ultrasound sensors, one pot for speed and 122 WS2812b pixels.
(S)passoUno
A DIY Live Stop Motion Tool heavily based on the work of Alexandre Quessy's ToonLoop (2009), edited and used in Arduino and Processing workshop by Davide Gomba and Mirco Piccin.
(S)passoUno offers the player the possiblity to easily create a custom animation positioning objects on a lasercut board. Add a frame by pressing the Big Red Button, erase the last frame by pressing the Big Black Button, choose a sequence, add colors, add symmetry effects and enjoy the result!
(s)passo uno
Ready to celebrate the maker movement with us? Add the following events to your agenda:
Friday, 16th October at 11.00am – During the Opening Conference "Life with the Machines" taking place at Aula Magna of Sapienza, Massimo Banzi will have a keynote and an important announcement.
Saturday 17th October at 4.30pm – Massimo Banzi and Bruce Sterling will talk about "Casa Jasmina, the IoT for real people" at Room 10 of the Maker Faire (check map above).
Share your pictures and thoughts on social media channels using the hashtag #MFR15 and #Genuino
Get your discounted ticket to Maker Faire Rome (promo valid until October 14th –  h.18).