The AtHeart 4Duino combines Arduino, Wi-Fi and touchscreen
—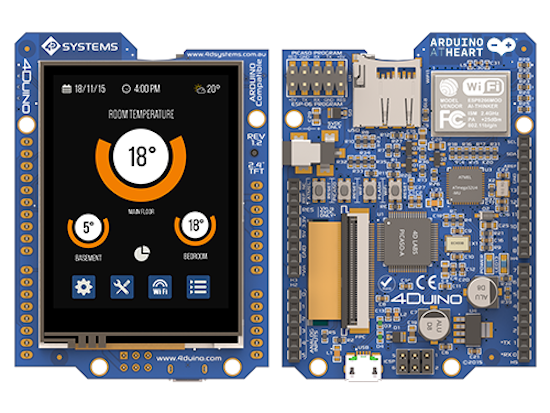 A new season, a new partner! We've had our sights set on 4D Systems' touchscreen product for quite some time, and we're excited to finally introduce that this Arduino and Genuino-compatible product is joining the AtHeart program. The 4Duino-24 is a 2.4-inch, 240×320-pixel Intelligent Display Module with Wi-Fi capabilities.
"For years Arduino/Genuino users have been taking advantage of our Intelligent Display Modules for adding graphical user interfaces with touch capability to their applications. With the 4Duino-24 we wanted to make something a bit more special and combine some of the more popular shields and the ATmega32U4 into a compact easy to use package. We are delighted to become part of the AtHeart program and very much look forward to seeing a full variety of applications running on the 4Duino-24." – Markku Riihonen, Products and Business Development Manager, 4D Systems.
Perfect for your next creative IoT project, the 4Duino-24 runs on an ATmega32U4 MCU and is powered by the 4D Systems PICASO Graphics Processor that offers an array of display functionality and options for any designer and Maker. The 4Duino-24 also includes the popular ESP8266 module, which is pre-programmed with the AT command set firmware enabling the 4Duino to have Wi-Fi functionality right out of the box.
Beyond that, the 4Duino-24 is equipped with an onboard microSD connector and headers in the layout of an Arduino, including power pins (5V, 3.3V, GND and VIN), 20 digital I/O pins—seven of which can be used as PWM outputs, while 12 pins have analog input capabilities.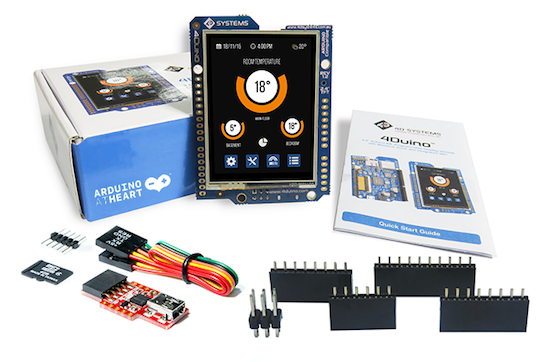 The 4Duino-24 can be programmed using the standard Arduino IDE or the 4D Workshop4 IDE and its three new 4Duino-based development environments with the added dimension of graphics. Creating Arduino GUIs doesn't get any easier!
Ready to get started? You can watch 4D Systems' 10-minute video below, as well as check out its product page here. The 4Duino-24 is available as a starter kit and standalone module.