A special day dedicated to Arduino in Stockholm
—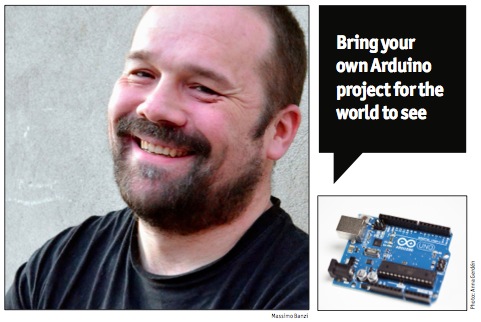 Tekniska Museum of Stockholm in collaboration with Italian Embassy, and the Royal Institute of Technology  (KTH), will host a special edition of the Arduino Day on the 26th of November.
Massimo Banzi and David Cuartielles together with professors from KTH and some of the most creative professionals, students and enthusiasts, will be the protagonists of a showcase of inspirational lectures and Pop Up speeches suitable for both hardcore Arduino fans as well as for the curious newbie.
Are you in Stockholm next week? Come and say hello!

The program
Part 1: h.14:00 – 16:00 (Entrance with museum Ticket)
Presentations and Q&A in Althinsalen at Tekniska museet.
– Massimo Banzi (Arduino founder)
– David Cuartielles (Arduino founder)
– Clara Leivas (Interaction Designer)
– Dr Jon-Erik Dahlin (KTH) Ellen Sundh (Creative Technologist)
– Sagar Moreshwar Behere, PhD (KTH)
Part 2: h.16:00 – 20:00 (free entrance from 17:00)
Four hours of Arduino Maker Faire in Eventrummet at Tekniska museet.
Professionals, students and amateurs show their Arduino projects with improvised Pop-Up talks among the projects.
– Massimo Banzi (Arduino founder)
– David Cuartielles (Arduino founder)
– Ellen Sundh (Creative Technologist)
– Dr Carlo Fischione, (KTH)
– Dr Jon-Erik Dahlin (KTH)
– Rickard Dahlstrand (.SE)
– Members of Stockholm Robot Society Members of Stockholm Maker Space
– Leonardo Araujo de Assis (University of Brasilia)