The Arduino IDE 2.0 now speaks your language
—
It was only last December that we put out a call for members of the Arduino community to contribute to the open source development and translation of the IDE 2.0. The response from the Arduino community has been phenomenal, and we can already announce the availability of some new language packs. So it's time to update your Arduino IDE 2.0 to version 2.0.0-rc6, where it'll allow you to change the language.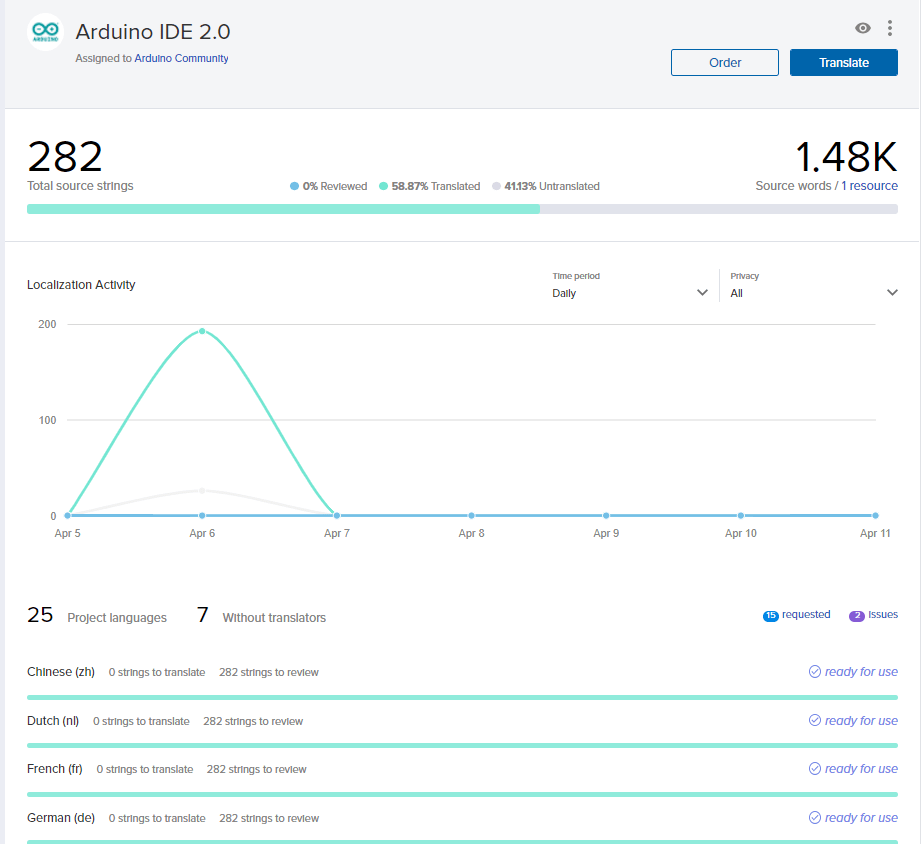 New languages for IDE 2.0
To begin with, the following language packs are available for IDE 2.0.
Chinese
Dutch
French
German
Japanese
Turkish
But the work hasn't stopped. Every day people from around the world are adding more and more to the 25 language packs that are in progress. You can join in with the continued development of IDE 2.0's translations through Transifex by clicking the button below.
Changing the language in IDE 2.0
If you're interested in loading one of the translations for IDE 2.0, you'll be glad to know it's super simple.
Make sure you're running the latest version of IDE 2.0 (which is 2.0.0-rc6 at the time of writing), and load it up.
Open the "Preferences" option in the main menu, and select the required translation from the "Language:" dropdown. It'll need to be restarted to change to the new language, and then you're good to go.
Thanks again to everyone who's joining our efforts in developing and translating the Arduino IDE. Arduino's all about accessibility, so your contribution is fundamental to improving the experience for the entire global community.
A big thanks to Alix Anneraud as the first contributor joining the IDE translation team, and being the fastest fingers to get started before we even officially announced this feature. An outstanding contribution from cike567, too, for participating in the Chinese language translations for both Arduino IDE 2.0 and Arduino CLI project.
And there's been a huge contribution for Bulgarian from Sorcerer_com, and Portuguese from Clodoaldo Souza, along with dozens of other people all helping their local Arduino communities. The whole Arduino team expresses its thanks and admiration for the work you've all done. Keep it up!