The new Portenta X8 (with Linux!) and Max Carrier redefine what's possible
—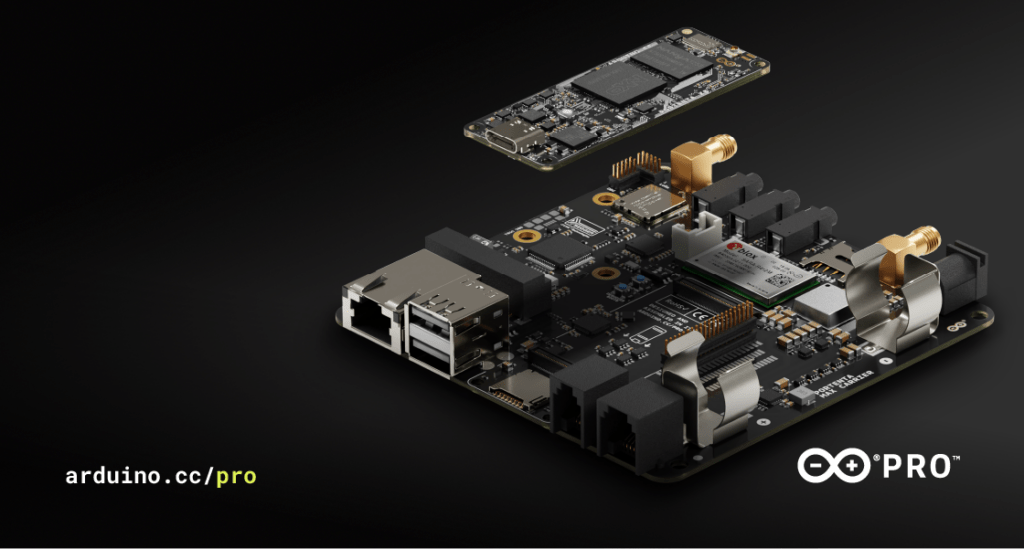 Arduino's mission has always been to give creators, makers and innovators the tools they need to turn their ideas into real projects. That will never change. What is changing, and at warp speed, is our definition of possible.
Because every day our accessible, flexible and reliable open-source hardware grows more powerful, and our ecosystem more complete. As you may have heard during Arduino Week, Arduino Pro is launching two new products in the Portenta range: the revolutionary X8 module, which merges Arduino and Linux for the first time, and Max Carrier, which gives you super prototyping powers to make your ideas come to life easier and faster than ever.
Portenta X8 is a plug-and-play, industrial-grade SOM that comes with Linux OS preloaded onboard, making for a hybrid combination of microprocessor and microcontroller with the capability for AI and ML on the edge. It's basically two products in one, with the power of no less than 9 cores. It features an NXP® i.MX 8M Mini Cortex®-A53 quad-core, up to 1.8GHz per core + 1x Cortex®-M4 up to 400MHz, plus the STM32H747XI dual-core Cortex®-M7 up to 480Mhz +M4 32 bit Arm® MCU up to 240Mhz, and is capable of running device-independent software thanks to its modular container architecture.
With onboard WiFi/Bluetooth® connectivity you can carry out OS/application updates remotely, so the Linux kernel environment is always at top performance levels. Enhanced security is guaranteed by X8's NXP SE050C2 Crypto element – keeping connections secure at the hardware level with PSA certification. The module has also achieved Arm SystemReady certification and integrated Parsec services, making it one of the first Cassini Products available to you on the market.
It's everything you need to develop your most ambitious projects for Industry 4.0, smart agriculture, connected buildings and smart cities: check out the full technical specs on the dedicated page and superpower your Linux applications with real-time execution.
If that wasn't enough, we are also introducing Portenta Max Carrier – which boosts X8 or H7 by adding connectivity options (Fieldbus, LoRa®, Cat-M1 and NB-IoT), industrial connectors such as RS232/422/485, USB, mPCIe – plus three integrated audio jacks, a MicroSD card and more.
You can combine this Arduino Pro carrier with existing Portenta modules to turn them into single-board computers or reference designs for Industry 4.0 – bringing your deployment time virtually down to zero. This allows you to swiftly prototype and develop high-performance projects such as remote control of industrial machinery and equipment, smart digital kiosks that enhance users' experience, and custom HMI dashboards to control the smart appliances, lights and systems in your home or office remotely.
As excited as we are about these launches, it's never just about a new product (or two!). It's about how many new ideas we can spark, the innovation we can fuel, the new opportunities you can create, if you have the right tools.
Portenta X8 is available on the Store and Max Carrier will arrive soon. We can't wait to see the great innovations you will bring to life.
Want to know more? Read all the details and judge for yourself.