The Arduino Store has been upgraded
—
You might have noticed that the shopping experience on the Arduino Store has changed a little. We wanted to let you know what we've been working on to supercharge the store.
Arduino Store — A New Experience
On the surface of the Arduino Store, you'll notice a slightly different layout. There are some new features, and it's all much smoother. It's even running around 30% faster. But in the background this has been quite a monumental task.
We've been researching for some time to figure out the best way to bring you a frictionless, enjoyable experience when you visit the official Arduino store. As you can imagine there are a lot of options out there when it comes to e-commerce platforms.
Let's take a look at a few of the new features you'll be seeing when you visit.
A New Way to Find Everything
The navigation has been simplified quite a lot. We shop online too, and know how important it is to be able to find the products you want quickly and easily. So the new store navigation makes it easy to hone in straight away on the products you're looking for.
But we've also worked on different ways to help provide inspiration. After all, you might come to the store wanting to get started on your home automation system. In that situation, you don't have a particular board in mind. Just an application.
So you can now browse through the store by feature. Whether it's home automation, IoT or robotics, you can filter the Arduino devices that meet your needs.
The same goes for types of devices. Open up a page that just shows you sensors, shields or servos. Or maybe you're working in educational technology, and want to see what's available for university students, or high schools.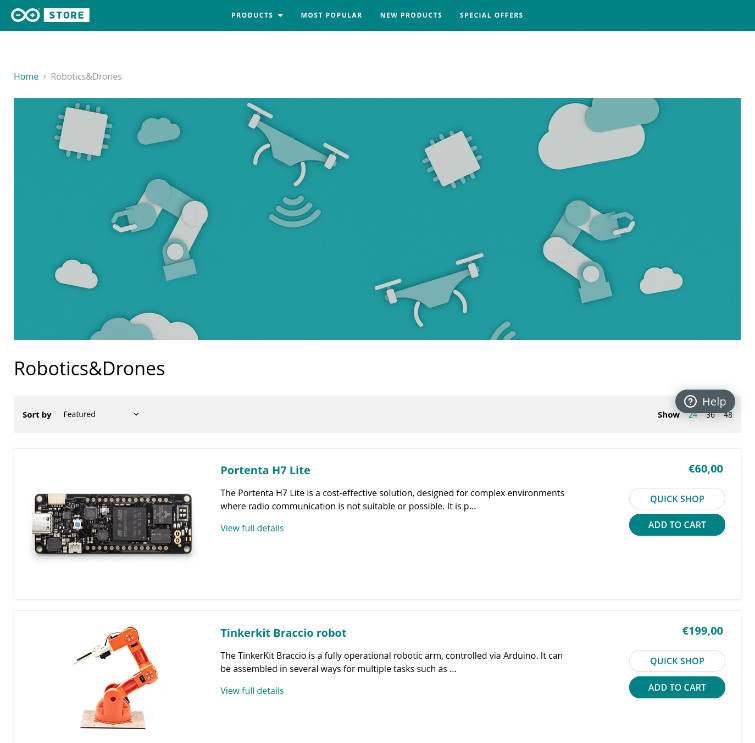 Extra Payment Methods
You can use any credit or debit card very easily now, or go with a PayPal option if you prefer. As we continue to work on the store in the background, more payment options will come online. But for now, you're safe and secure with lots of easy options available.
Once your order's in, you've got lots of great tracking options too. You can get updates via SMS text messages now. Or if you prefer, log into your Arduino Store account with the official Shopify app. Your notifications and order statuses are always right there, that way, at a moment's notice.
On top of all the other improvements, our advanced customer care is still firmly in place. So any comments, questions or issues can be resolved quickly and easily, just as you (quite rightly) expect.
If you've not visited already, go check out the new Arduino Store and let us know your thoughts!
And don't miss out. For this week only you've got a 10% discount on your next order (one use per customer, ends on 10th October) if you use this code during checkout: BRANDNEW-10
Remember to ping us on social media to let us know what you bought, and what you're going to build with it!