Arduino Nicla Sense ME makes sense of the world
—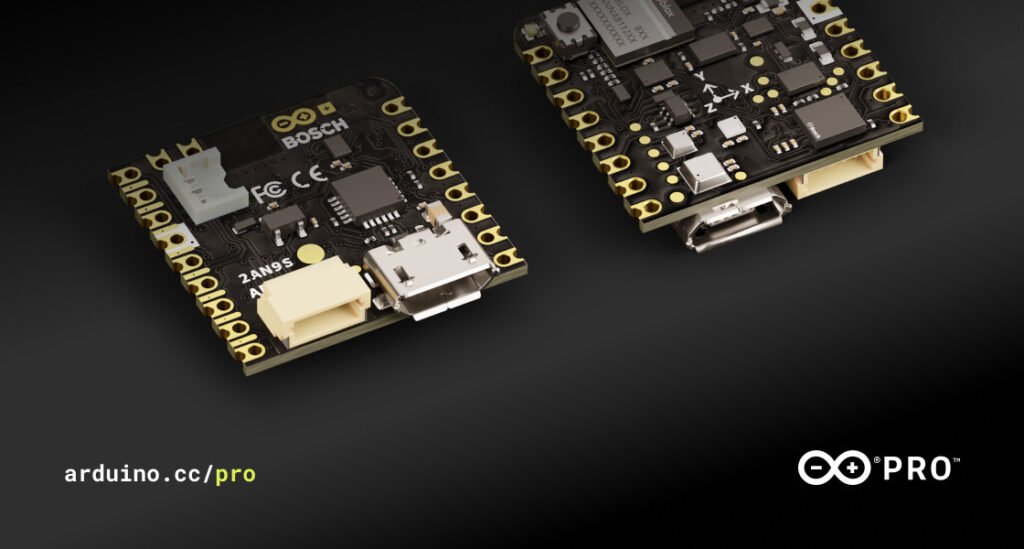 Nicla is Arduino Pro's new family of modular, intelligent products that are easy to use, versatile and accessible – whether you are an advanced user working on industrial applications or a budding maker looking to prototype your first intelligent solution. No wonder it's named after the Greek word for "victory of the people!"
To herald the range, we have just released the Nicla Sense ME: a tiny but mighty board, co-developed with Bosch Sensortec to enable sensing and intelligence on the edge. With low-power sensors, a high-performance processor and small footprint, it offers a winning combination that can answer our community's and clients' needs and open up to opportunities for infinite new solutions.
What makes the Nicla Sense ME so special? Let's dive into some details.
Sense motion and the environment
At the Sense ME's heart, you'll find Bosch Sensortec's BHI260AP AI sensor system with integrated motion sensor, BMM150 magnetometer, BPM390 pressure sensor, and the unique BME688 4-in-1 gas sensor with AI and integrated high-linearity, and high-accuracy pressure, humidity and temperature sensors.
In short: it's everything you need to monitor and interact with any type of motion and environment – hence, the "M" and "E" in the name.
Double the innovation
The Sense ME is the first product in Arduino Pro's Nicla line, as well as the first product to introduce Bosch Sensortec's new sensors on the market. So if you like innovation, you'll love this little board.
Low power, high performance
The Sense ME's Cortex-M4 nRF52832 CPU is capable of hosting intelligence on the edge, bringing AI and machine learning anywhere you need it – even off the grid, because it can be powered by battery as a completely standalone solution.
Made to fit in
The Nicla Sense ME is a mere 22.86×22.86 mm packed with features. The whole Nicla family is based on our smallest form factor to date, yet is compatible with both MKR and Portenta products – effectively leveraging the combined power of Arduino's ecosystem.
Ready now, ready for the future
Versatile, easy to configure, quick to set up: you can integrate the Nicla Sense ME in the solution you are designing or the one you already have in place. And because it's designed with Bosch Sensortec's industrial-grade, state-of-the-art components, it's ready to explore any application in the emerging IIoT, AI and ML fields.
Small, smart, and ready to deploy constant data monitoring and AI capabilities anywhere, for anyone.
Here are just a few examples of the applications we can already envision the Nicla Sense ME will enable.
Monitor environmental parameters, from humidity and CO2 in your home to toxic substances released by industrial processes such as dry washing. Monitor air quality and safeguard people's health.
Capture the information embedded in motion: from person-down systems and avalanche warnings that save lives, to fitness apps that check your posture to make sure your exercise routine gives you results as soon as possible.
Let the different sensors in the Nicla ME bring together a variety of data for complex solutions: stabilize robots and rovers, ensure safety working with cobots, make your home more comfortable with automation, accelerate physical rehabilitation and much, much more.
What will you create, develop and deploy with the new Nicla Sense ME?
The Nicla Sense ME is available on the Arduino Store for €59/US$70.
More information and complete technical specs are available here.