The Arduino Fundamentals Certification Exam is now available in Spanish and Italian!
—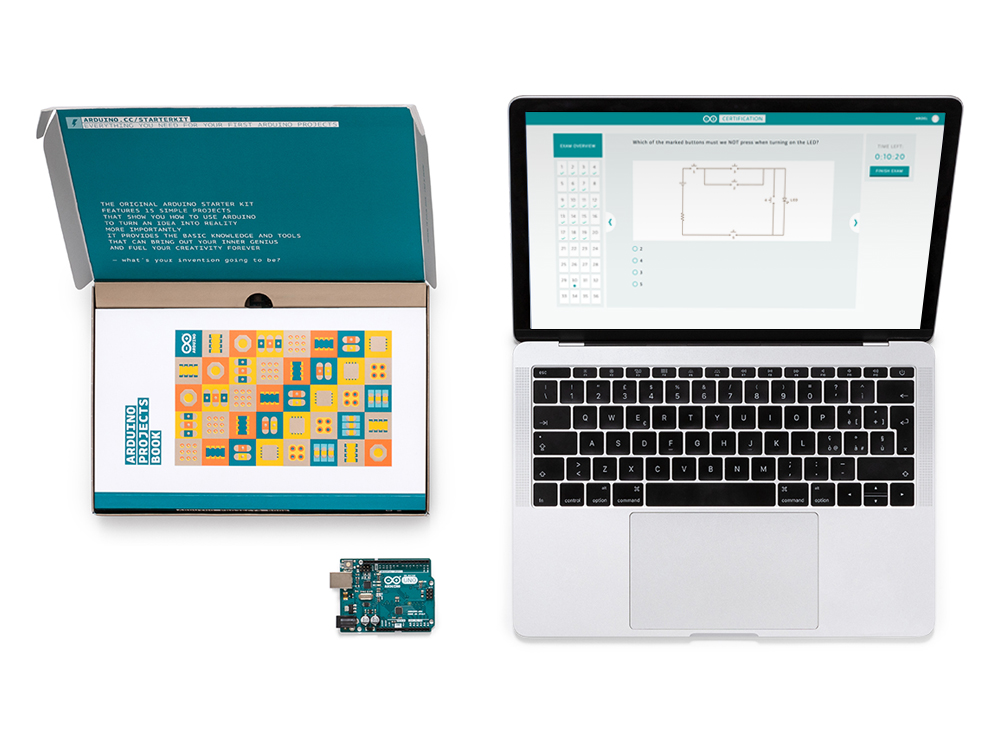 For enthusiasts, the Fundamentals Exam is the first tier in the Arduino Certification Program (ACP), designed to test entrants knowledge in Arduino-related electronics, programming, and physical computing.
The exam is available for everyone interested in officially certifying their skills and knowledge on Arduino, that could, for example, be referred to in a resume for academic or professional purposes.
Get your students, colleagues and friends certified!
The Fundamentals Exam is now also open to schools, academic institutions, universities, and companies that are interested in getting their students and employees officially certified!
The Fundamentals Certification offers the right balance of academic excellence and real world skills to give students the confidence and motivation they need to succeed both in educational and professional environments.
It is a great opportunity for companies who are interested in certifying their employees to refresh and add new skills to their repertoire.
Want to learn more? Additional information can be found here.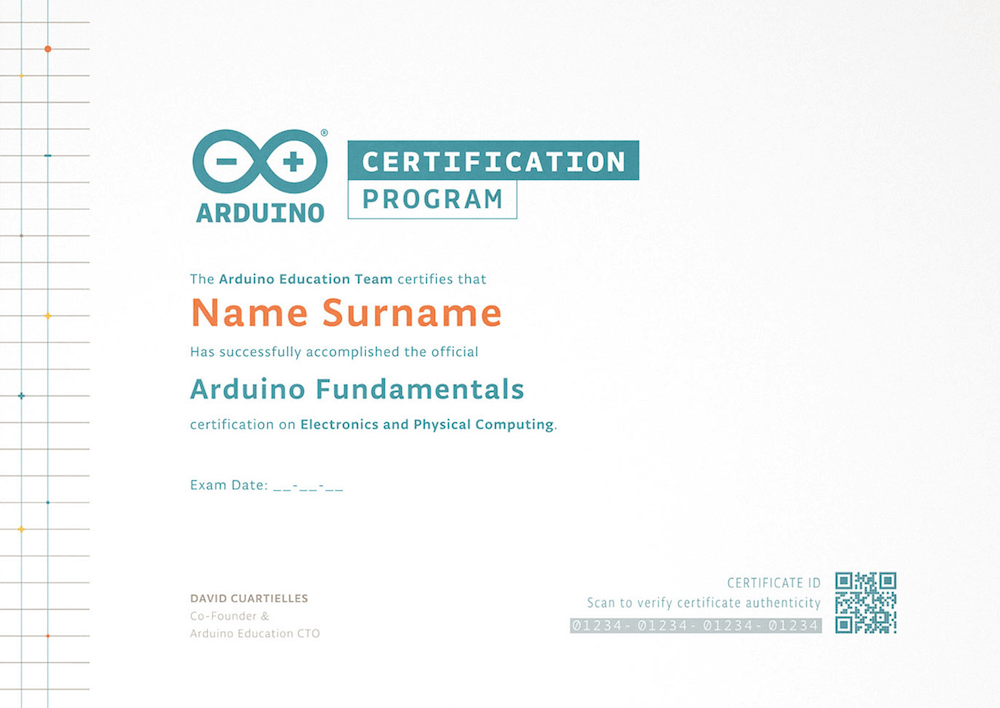 El examen de Certificación Fundamentals, está ahora disponible en Español e Italiano
Para entusiastas, el examen de Certificación Fundamentals, es el primer nivel del Programa de certificación Arduino (ACP), diseñado para evaluar el conocimiento de los participantes en electrónica, programación y computación física relacionadas con Arduino.

El examen está disponible para todos los interesados ??en certificar oficialmente sus habilidades y conocimientos en Arduino, que podrían, por ejemplo, mencionarse en un currículum con fines académicos o profesionales.
¡Certifica a tus estudiantes, colegas y equipo de trabajo!
La certificación también está disponible para escuelas, instituciones académicas, universidades y empresas que estén interesadas en certificar oficialmente a sus estudiantes y equipo de trabajo.
La Certificación Fundamentals ofrece el equilibrio adecuado entre excelencia académica y habilidades del mundo real, para brindar a los estudiantes la confianza y la motivación que necesitan para tener éxito tanto en entornos académicos como profesionales.
También es una gran posibilidad para compañías que están interesadas en certificar a su equipo de trabajo para actualizar y agregar nuevas habilidades a su repertorio.
Para saber más visita: https://store.arduino.cc/digital/cert_fundamentals.
Siamo lieti di annunciare che l'esame per la certificazione Arduino Fundamentals è da adesso disponibile anche in spagnolo e italiano!
Desideriamo rendere accessibile la Certificazione alle scuole, alle istitutuzioni, università e aziende che siano interessate a certificare ufficialmente i propri studenti e dipendenti! La certificazione Arduino Fundamentals offre il giusto equilibrio fra l'acquisizione di abilità accademiche e lavorative, fornendo agli studenti la sicurezza e la motivazione necessarie per riuscire nel mondo accademico e professionale. E' inoltre un increndibile possibilità per le aziende interessate ad aggionarne, migliorare e/o accrescere le capacità dei propri dipendenti.

Per saperne di più, visitate: https://store.arduino.cc/digital/cert_fundamentals.