Robotic fish swims under Arduino control
—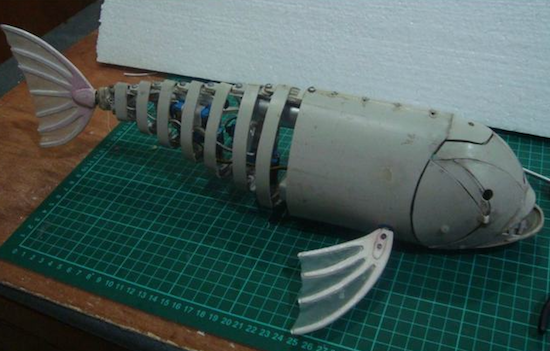 This robotic fish is made from bent PVC pipe and moves its tail for locomotion.
If you're going to build an underwater vehicle, propeller control is the conventional solution. Eric Dirgahayu, however, created his underwater creature in the form of a fish, complete with a tail that powers it through the water, and pectoral fins that could, in theory, steer it in the correct direction. There is also a ballast tank to adjust its buoyancy. Interestingly, control of this "fish" is accomplished via a TV remote, so the surrounding water would need to be relatively clear.
Now we already have a complete fish robot body, we need to provide it with life! We will use the Arduino Pro Mini because the shape is small and can fit into safety box. In addition, you also need Pro Mini Arduino Motor Driver for control of ballast tanks, UBEX for power protection and two cell LiPo battery 1000mAh for power.
Here's Dirgahayu's general project description. If you're interested in making a fish like this yourself, the physical build is seen here, and the electronics are found on this page.