Connected question mark hopes to spark 1 million conversations
—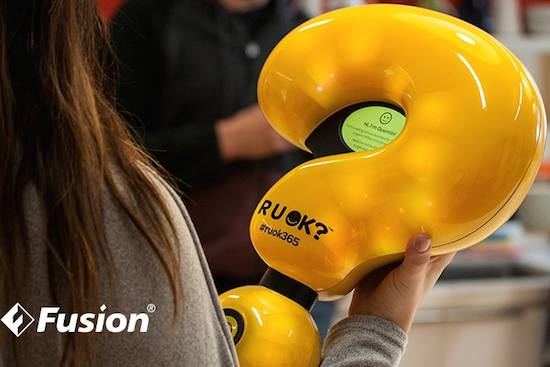 Suicide prevention charity R U OK? has partnered with digital innovation agency Fusion to create a fully-connected device in the form of a question mark with hopes of sparking a million conversations throughout Australia. Similar to the Olympic Torch, Quentin will be passed from person to person as it makes its way from town to town starting on Thursday, September 8th.
But unlike the Olympic Torch, the route is not planned. Instead, the journey is determined by the challenge it issues to each new keeper motivating them to reconnect face-to-face with people in their lives.
Quentin consists of a translucent 3D-printed shell, and is equipped with an Arduino/Genuino, some sensors, GPS, a display, and an array of LEDs that illuminate, animate and communicate. Users can interact with the device either by SMS or shaking it to receive their R U OK? challenge. Quentin also publishes its activity to the charity's website, including distance travelled, challenges issued, and the number of keepers.
(Photos: Fusion / Campaign Asia)