Get your DDR on with an Arduino dance pad
—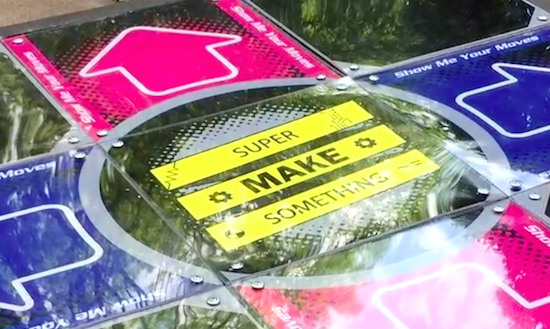 Alex of the YouTube channel "Super Make Something" is a huge fan of Dance Dance Revolution (DDR), and still has to play the game whenever he steps foot into an arcade. However, with the number of arcades slowly declining, the Maker has decided to bring that experience into his living room with a USB DDR dance pad.
And yes, you could always buy a metal dance pad but rather than spend $300, why not build your own? That is exactly what Alex has done using some easy-to-find materials: a 35″ x 35" slab of plywood for the base, four 1" x 35" pieces of wood for the border, five 11" x 11" pieces of MDF for the stationary panels, four 9″ x 9" pieces of cardboard for the riser panels, 12 metal button contacts out of aluminum, four 11" x 11" MDF button pads, acrylic sheets for the dance surface, and plenty of paint and graphics for the finishing touch.
The dance pad itself is based on pull-up resistors and an Arduino Leonardo, which is housed inside a 3D-printed enclosure. The Arduino includes an ATmega32U4 chip that can be programmed to act as a USB input device. The working principle here is that the MCU sends out a keystroke every time a button panel is stepped on. Alex provides a more in-depth breakdown of how it works in the video below! Meanwhile, the Arduino code can be downloaded here.