Montessori-Approved Cubetto Helps Children Learn Programming
—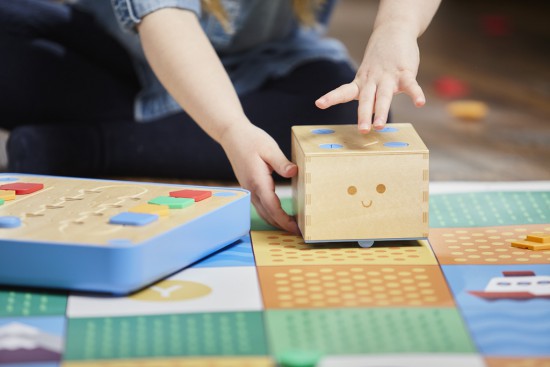 Our good friends over at Primo Toys have just launched their brand new Cubetto Playset and joined Arduino AtHeart program! Cubetto is a playful wooden robot that helps young children (3-6) discover programming through storytelling, adventure and collaboration. It's the first coding toy of its kind to work without a screen or digital interface, and lets children learn to code before they can read or write. Cubetto is for boys and girls of any language anywhere in the world. It has been designed to help create a new, universal standard in tangible coding that will help will drive today's coding revolution from the ground up.
The Cubetto Playset is exclusively available on Kickstarter for the discounted price of $149 until April 6th:
Part of the Arduino At Heart program, Cubetto provides gender-neutral play that boosts a child's creativity, critical thinking, spatial awareness and communication skills. A beta version of the product, which raised over $80,000 (nearly £57,000) on Kickstarter in 2013, is used by more than 300 schools and 500 families in over 40 countries worldwide. Following years of testing and numerous iterations, Cubetto now boasts a learning platform that expands and connects to a limitless number of devices via Bluetooth.
Check the video to see it in action!
UPDATE (09/03/2016)
Primo Toys have created an exclusive $45 reward for Arduino AtHeart fans, called 'Cubetto's Brain'  – an Arduino compatible board for slightly more advanced little coders. The microcontroller used is the SAM D21, the same as the Arduino and Genuino Zero, and can be programmed from the standard Arduino/Genuino software, using a USB cable.
The Cubetto board includes a series of components that can be accessed from the software, including:
Motor driver

to control up to two stepper motors individually. The board also has the connectors for the motors.

Piezo buzzer

for audio output.

Bluetooth LE

module.

Power circuit and two-pin JST connector for an external power source.
Six I/O connectors: three of them are connected to digital pins that can be used either for inputs and outputs and three are analog inputs. The I/O outputs are JST connectors, used by TinkerKit! and Ototo, meaning that the sensor modules of these products are compatible with the Cubetto board.