Learning Photosynthesis with an Interactive installation
—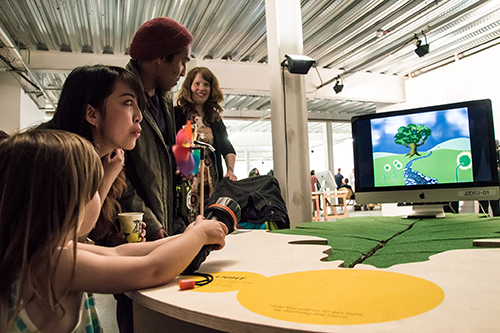 Photosynthesis is an interactive installation for primary school children created, designed and developed by Moritz von Burkersroda and exhibited at P3 Ambika, University of Westminster.
It's a  learning  experience to understand the abstract process of photosynthesis in a hands-on way.  Thanks to a physical interaction  kids can easily understand what  plants convert light into chemical energy to fuel their activities.
The installation uses an Arduino to measure data from a photoresistor and a hacked Wii-remote to connect the objects with the video feedback on the screen triggered by a Processing sketch. On the page of the project you can download a Design Research Document about Contextual study theory to understand the relationship between interactivity, learning and educational institutions, like museums.