A rec&play loop station for little musicians
—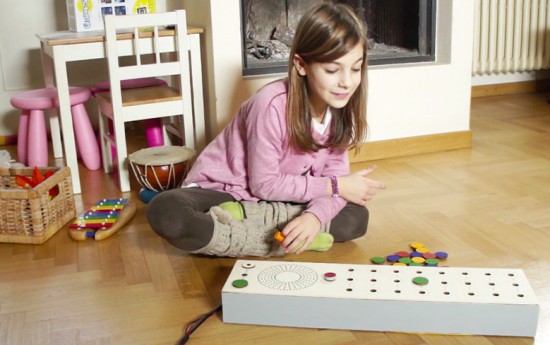 The Interaction Awards  published the shortlisted projects for 2016 and up to five finalists in each category will be announced during the event on Friday evening, March 4, 2016. In the Expressing category, showcasing projects enabling self expression and/or creativity there is a project called Step representing an innovative and engaging way of approaching music production for children between 6 and 100 years old.
Step runs on an Arduino and has been created by Federico Lameri, Sandro Pianetti at the Master of Advanced Studies in Interaction Design in Lugano under the supervision of Massimo Banzi and Giorgio Olivero of Todo.
To prototype the user experience we've used an Arduino Leonardo connected to a processing sketch that handle the recording and playback features. Using a Mux Shield 2 we managed connecting 25 IR sensors, 16 LEDs, 1 knob and a button to a single Arduino board. We needed a quick and effective way to test the experience and by using Arduino we managed to design and build the whole product in three weeks.
Most of the music toys on the market are trying to fake the sounds and the experience of real instruments. Step has a different approach as it's designed to give children the opportunity to create real loops and beats using whatever sounds they like from objects of everyday life.
Players can record any sounds and match them with  coloured tags, and then  create melodies, loops and and beats by placing tags on the track and by adjusting the tempo!
Check the video below to see it in action: