Students bring new ideas and innovation at CTC Castilla
—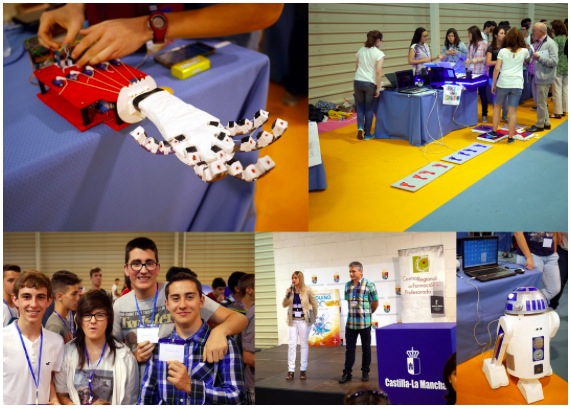 Creative Technologies in the Classroom* gives us a lot of joy whenever we visit students' fairs. Each iteration of CTC (Madrid, Castilla, Barcelona and so forth) has its own technology fair and it is meant to award and congregate students and their projects. Arduino Verkstad, teachers, school and government representatives join as well to celebrate and share what students have learned along the program.
This year is the third edition of CTC Castilla and the fair had 140 projects, 936 students and 70 teachers. We have noticed that:
Teachers learned along with the students since they are not reproducing the CTC projects as the final projects, they have innovating by bringing new ideas
We got told that teachers are forced by the students to open the labs late after school hours because they want to spend more time working on their projects
Students have become pretty good at pitching projects, not only their production is excellent, but also their presentation skills
Some of the most impressive projects are:
A robotic hand controlled from a phone that even had an app with the sign language alphabet so that the hand would "talk" for you, and an R2D2 made of recycled materials. All the pictures and many videos of the projects can be seen here. Thanks to Centro Regional de Formación del Profesorado, Castilla La Mancha and congratulations to all CTC participants!
*Creative Technologies in the Classroom (CTC) is a collection of experiments aimed at transforming the way technology is taught in schools around the world. These experiments introduce basic concepts in programming, electronics, and mechanics.
(The news was originally posted on Arduino Verkstad blog by Laura Balboa)