Thanks for Celebrating Arduino Day around the world!
—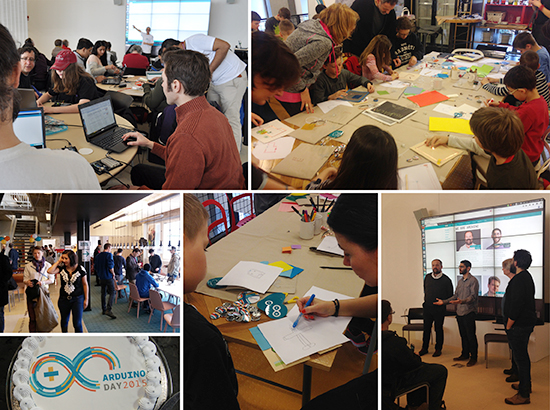 At the end of March Arduino Day was celebrated around the world in more than 260 official and community events. In the video below Massimo Banzi, David Cuartielles, Tom Igoe and David Mellis sent a message to the whole community from the celebration taking place at MIT in Boston:
Take a look at some pictures from official Arduino Day which happened in Boston, Torino, Malmo, Budapest and Bangalore and some birthday cakes popping up on Twitter:
Hoy es Arduino Day #ArduinoD15: ¡¡¡Feliz cumpleaños Arduino!!! Para los que no conocen Arduino; es una platafo… http://t.co/DKCp58gNQp

— StreaMexico (@Stream_Mexico) April 1, 2015
I found #awesomesauce! ???? ?? #ArduinoD15 #arduino #arduinoday #hack #logo #community… … http://t.co/YmZbEF82Ej pic.twitter.com/jE2vglF65e

— Clarke Hosp (@hospdesign) April 2, 2015
#ArduinoD15 and then they brought cake! Awesome thanks @Creating_STEAM pic.twitter.com/GTC6QJGasN — Caren Watkins (@ThisIsCaren) March 28, 2015
It's Arduino Day! One of our founders @timredfern made a cake version of an @arduino board to celebrate. #ArduinoD15 pic.twitter.com/yN7GVzcPiX

— Drop (@dropkitchen) March 28, 2015
We also wanted to share  links some  organizers sent us to explore pictures/videos of local communities' gatherings:
Do you have pictures and videos to share of your Arduino Day? Post the link in the comments!
UPDATE