Arduino Cloud gets mobile dashboards and Facebook login
—
You've now got a way to optimize your Arduino Cloud dashboards for small screens, and Facebook login for the smartphone apps and your account. It's been a busy few weeks! Only yesterday we rolled out LoRaWAN connectivity in Arduino Cloud using The Things Stack. Now we've even more great features to tell you about, so let's jump right into them.
Mobile Optimized Dashboards for Arduino Cloud
Dashboards are one of Arduino Cloud's crowning achievements. Fully customizable, and a powerful way to control boards, devices and projects, while also letting you visualize all kinds of data. It really is a cornerstone of Arduino Cloud's offering.
A little while ago we made some changes to widget sizes, and the way they're labelled. It gave you a much better view of the data, and made the sizing more compact. This was the first step in a redesign of Arduino Cloud dashboards that now let us improve visibility on small screens, too.
As you probably know, your dashboards instantly work in the free Arduino IoT Remote app, too. It gives you smartphone control with no coding required. Today this great feature gets a shot in the arm, as you can now edit a dashboard's layout for a mobile screen.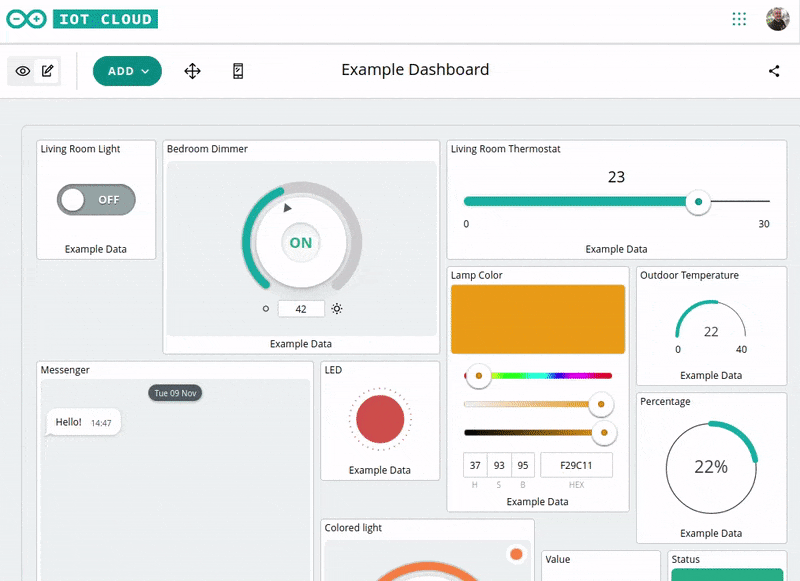 Let's say you add a button to a new dashboard. You can now increase its size on the big screen, but reduce its size on the mobile layout. They can be in totally different positions, too. Arduino Cloud will automatically display the dashboard in the optimal size depending on your device. So you always get the best view and most ergonomic layout.
Any settings for the widgets are maintained regardless of the dashboard size. So if you link the button to a variable on the desktop dashboard, it's also linked for the mobile layout. This way, you can optimize the layout without having to replicate any work in the settings.
At the top of the dashboard screen, you'll now see a mobile layout button. This lets you switch between views, so you can customize the dashboard for both screen sizes. It's available right now, so go give it a try.
Facebook Login for Arduino Cloud
Since we're talking about Arduino Cloud updates for small screens, we also added another minor, but very useful tweak.
You can already log into your Arduino Cloud account using Google or Apple accounts. Or your Arduino account, obviously. There's now the option to log in by connecting to Facebook, too.
It speeds up the process by only requiring a quick button click/tap, so you can get on with building those awesome mobile dashboards even faster!
As always, we want to hear your thoughts on these changes, so please let us know over on social media.