Fire foam balls from this Arduino-based wireless Nerf sentry turret
—
Named the grand prize winner of Instructables' Arduino Contest, a maker known as otjones99 has created an interesting take on the classic Nerf sentry turret design by building one that uses an FPV headset to see and fire at targets. The turret consists of a turntable for moving the assembly side-to-side, along with a simple servo mechanism for tilting the end up and down. Small foam balls are ejected from the turret by a pair of counter-rotating wheels that were taken from a couple of blower style fans.
In order to control the rotating base and the loading/tilting mechanisms, a single Arduino Uno was positioned at the bottom and connected to the two servos and the ESCs for the spinning wheels. Commands for actuating the sentry are received by the onboard nRF24L01 wireless module that sends them to the Uno over the SPI bus.
The user is able to move the sentry turret by turning a pair of potentiometers within a Logitech joystick attached to an Arduino Nano. There is also a set of momentary pushbuttons to switch the safety on or off and to launch. This data gets transmitted from the nRF24L01 module onboard to the other one on the turret.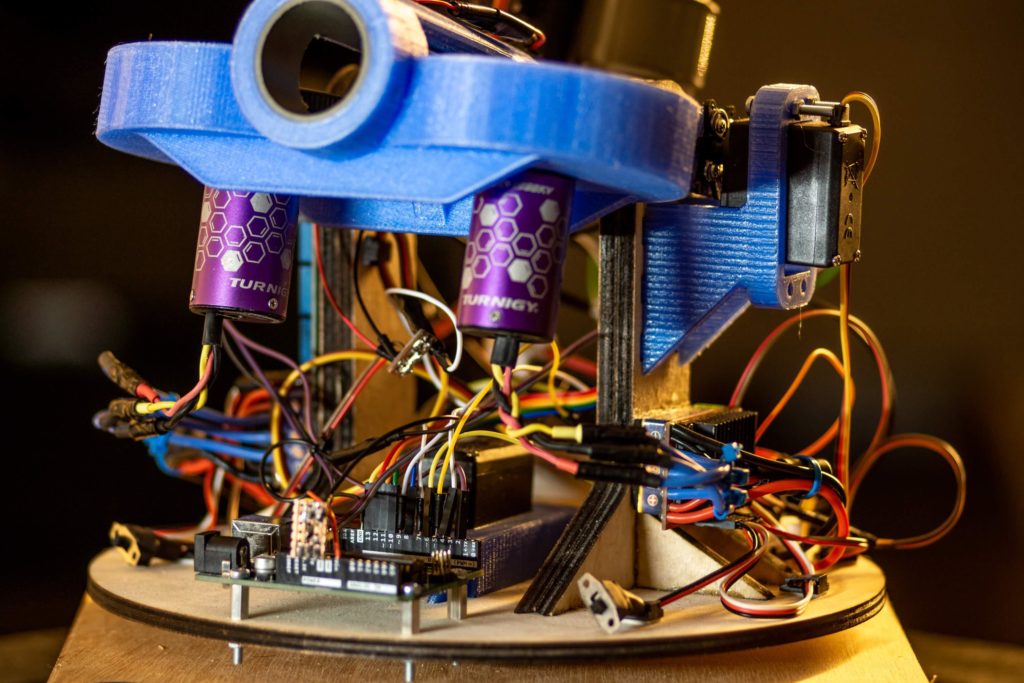 This project is a really fun way to explore both first-person control and topics in wireless communication. To read more about the sentry turret, you can check out otjones99's well-documented tutorial here.