Say hello to the new Arduino Oplà IoT Kit: Experience the Internet of Things in your hands!
—
We're excited to announce the launch of the Arduino Oplà Kit, the first open programmable IoT platform that allows you to add smart connectivity to the devices around your home or workplace and build custom IoT devices. 
The Oplà IoT Kit contains all the hardware necessary to create eight connected applications, access to an online platform with assembly instructions, and a 12-month subscription to the Arduino Create Maker Plan. This kit is perfect for beginners with basic DIY experience, while more advanced users can leverage it to customize and hack their smart applications and devices, with full control of their data and processes.
Eight out-of-the-box projects to connect your home or workplace
The projects included in the Oplà IoT Kit enable users to turn everyday appliances into smart appliances, which can be controlled remotely on a mobile phone:
Remote Controlled Lights — Change color, light modes, and switch on/off
Personal Weather Station — Record and monitor local weather conditions
Home Security Alarm — Detect motion and trigger warnings
Solar System Tracker — Retrieve data from planets and moons in the solar system
Inventory Control — Track goods in and out
Smart Garden — Monitor and manage the environment for your plants
Thermostat Control — Smart control for heating and cooling systems
Thinking About You — Send messages between the kit and the Arduino IoT Cloud
Create, connect, control. The Internet of Things has never been so easy!
No soldering is required with the Oplà IoT Kit, which is based on a MKR IoT carrier with an OLED color display, on-board environmental sensors, and capacitive touch buttons. The kit also includes a MKR WiFi 1010 board, a circular plastic enclosure and supporting accessories, such as two cables, a motion sensor, a moisture sensor, and a USB cable.
To build applications, users can rely on the Oplà online platform. Each project includes goals, an intro to the components, step-by-step instructions with illustrations and videos to guide you through assembling the product and building the code.
Finally, the kit acts as the physical interface of the Arduino IoT Cloud and comes with a 12-month subscription to the Arduino Create Maker Plan, offering unlimited compilation time and extended access to all the features of the Arduino IoT Cloud.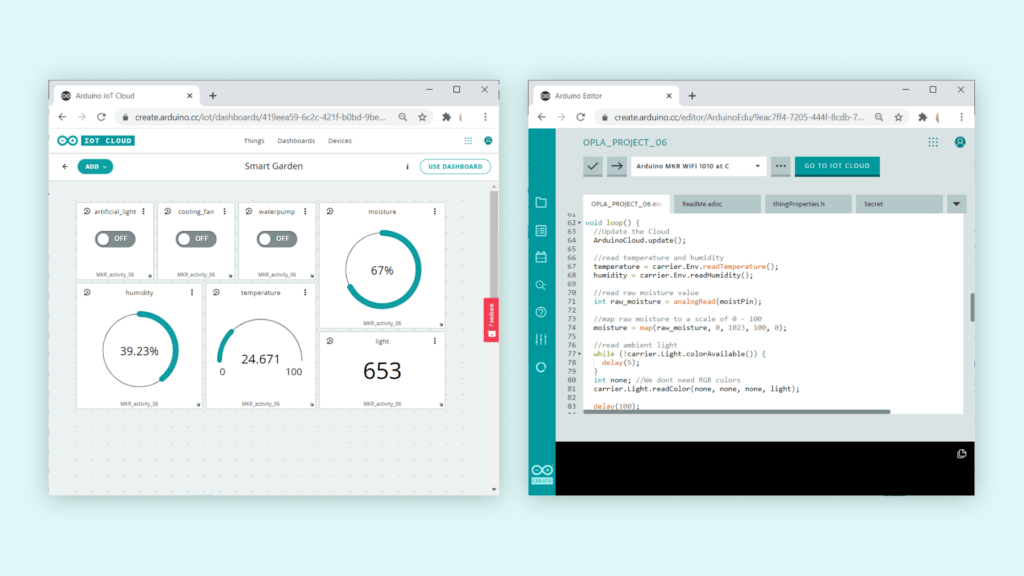 "When creating the Oplà IoT Kit, we wanted to design a platform that would allow anyone to gain a complete experience of what the Internet of Things has to offer around the home or workplace and I really believe we have achieved this. It is a great kit for users to build custom devices and enjoy being creative, no matter your level of experience," says Arduino CEO Fabio Violante. "With this launch, we take yet another step towards lowering the barrier to entry for IoT development and cannot wait to see the projects created by users embracing connected devices both in their homes and at work."
The Oplà IoT Kit is available on the Arduino online store.