Meme Weaver guides users through fabric creation
—
We all need to wear clothes, but where do they come from? If you answered "the mall," then perhaps it's time to play a couple rounds on the "Meme Weaver." 
As seen here, this project by the husband and wife team of David Heisserer and Danielle Everine prompts users to adjust levers correctly in order to control how yarn travels through the machine, weaving fabrics together that reveal poems, quotes, and other interesting sayings.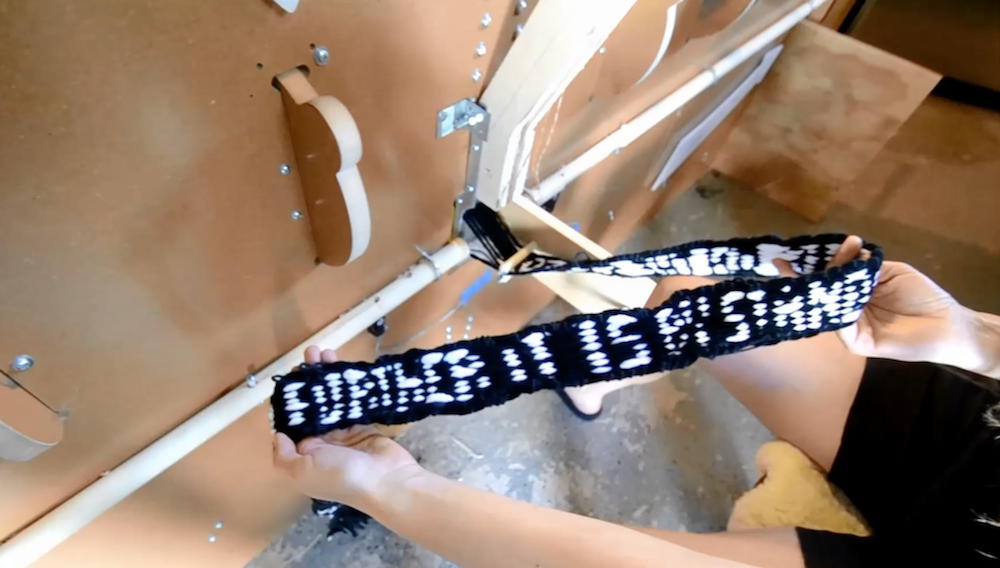 Control for the device—which in turn "commands" humans via a series of audio-visual cues—is accomplished using an Arduino Mega, along with an Adafruit Audio FX sound board. 
Part mechanized tool and part arcade game, Meme Weaver is an interactive machine that weaves poems. Meme Weaver is a complex instrument with large-scale elements of a traditional loom – beams, rollers, yarns, shuttle, beater – with people operating individual treadles. Blinking lights and buzzers create an arcade game feel by lending a bit of Dance Dance Revolution ambiance to the loom.

We have chosen to weave a collection of memes, poems, quotes and maxims from a wide range of authors. The selections include personal favorites, well-known classics and contemporary works within the theme of knowledge sharing. The scroll will be written with poems that remind us that we are standing on the shoulders of giants when we make new technologies.
More info is available on the Meme Weaver's website , or you can see it on display at the Northern Spark art festival in Minneapolis on June 15–16th.