A Flexible Arduino Prototype
—
We recently visited NextFlex, the flexible electronics manufacturing institute in Silicon Valley, where they developed a flexible prototype based on the Arduino Mini. Their mission is to make flexible electronics mainstream, opening up all kinds of new applications.
How did you make the flexible Arduino prototype?
Some of the equipment we use is familiar. For example, automated screen printers and industrial inkjet printers. We used them to print the circuit on a 1mm thick flexible plastic 'board' (known as the substrate).
We then took the microcontroller silicon die, which is usually inside a chip package, and connected it directly to the substrate. For this, we used our production-level assembly equipment for precision adhesive dispense, die, and component attach.
Using these techniques, we're able to create flexible wire connections with a resolution of 50um (that's 0.005 cm, roughly the thickness of a human hair).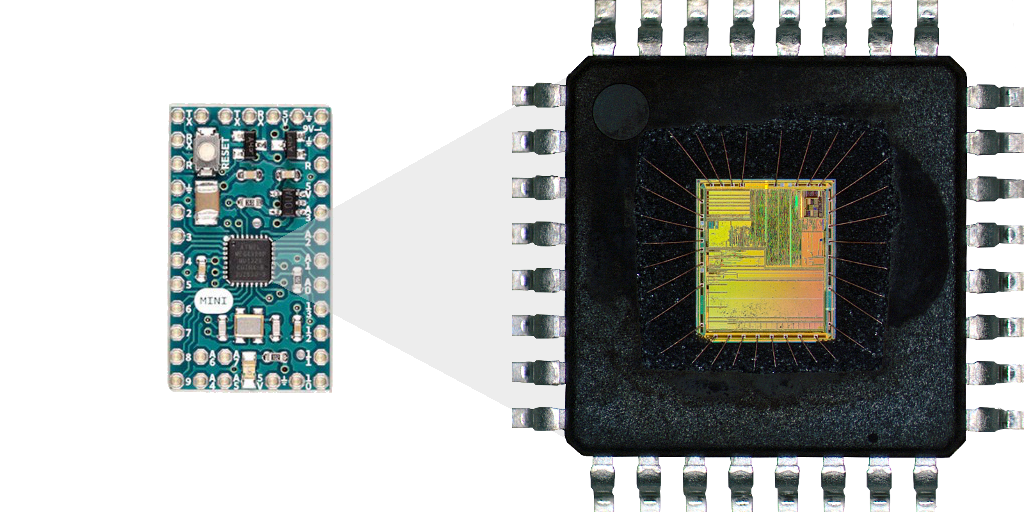 Silicon die inside a standard microcontroller package. (Image credit: NextFlex)
What kind of conductive inks are you using to connect components?
Conductive inks are not new, however we focus our efforts on making these materials very reliable and resilient.
We are using advanced formulations of silver ink with strong adhesion to the base substrate, uniform particle distribution, and the ability to bend and flex after curing — all without degrading the electrical performance.
Some components you use are rigid. When will they be flexible too?
We use some rigid components, which is why we call it "Flexible Hybrid Electronics," but aim for them to be as small and thin as possible.
The unpackaged die can be thinned to 30um or less. At these thicknesses the silicon becomes flexible and allows for 10mm or smaller bend radii (roughly the radius of your thumb).
Some passive components we use, like capacitors and resistors, are rigid today. Eventually we will print these components, so they are flexible too.
When will flexible electronics be used in every day products? 
The technology is already here! Over the next couple of years, we think it will reach prices that make it widely adopted in consumer products. Before then, by working on projects like the flexible Arduino implementation, we hope we can soon put development tools into the hands of more students, makers and product designers to innovate with.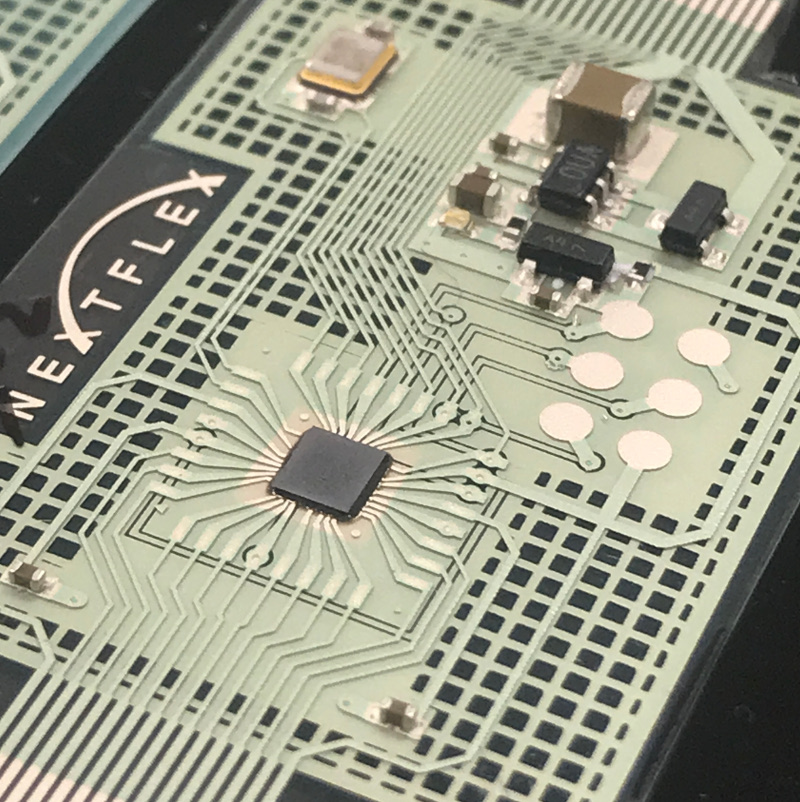 MCU silicon die bonded to the flexible Arduino prototype. (Image credit: NextFlex)
NextFlex will be talking more about this project at the Sensors Expo & Conference in San Jose, California on June 26th, during the "Democratizing IoT" session.