The Rex800 looks like a dinosaur Terminator
—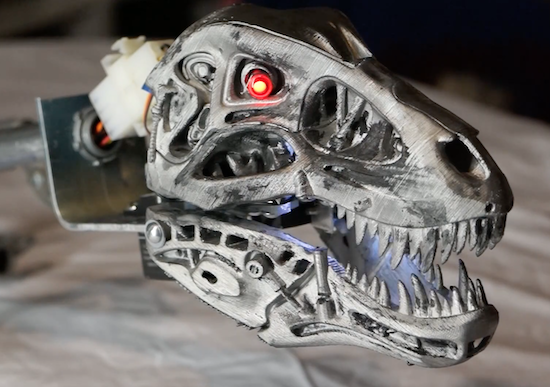 The Rex800 looks like a dinosaur Terminator, a terrifying proposition, and perhaps a great merchandising opportunity!
YouTuber "RobitFactory" is in the process of creating a 1/10 replica of the "Sue" dinosaur skeleton, now featured at the Field Museum of Natural History in Chicago. What he has at the moment is a rough frame made out of tubing, as well as a metallic gray head with glowing red eyes.
The video takes us through the build process, along with some of RobitFactory's future plans which include voice-activation. It's an ambitious project, and in preparation for upgrades, he's switched out the Arduino Uno used originally for a Mega board, and installed a Molex connector on the head so it can be easily disconnected. It will be exciting to see where this build goes!
Intrigued? Be sure to check out the RobitFactory's YouTube page.