The GoonieBox challenges guests to solve its riddles
—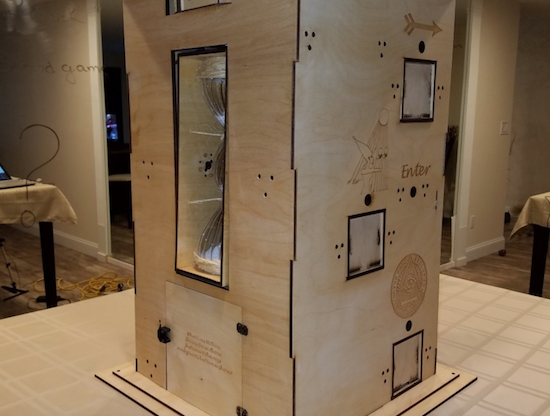 Inspired by The Goonies movie and The Room game, Guido Bonelli has constructed a piece of Arduino-controlled interactive furniture to entertain his guests.
After what appears to be a massive amount of work involving 3D printing, laser cutting, wiring, and programming, Bonelli has come up with a puzzle box that shouldn't need any explanation. Using button presses and other interactions with it, participants are able to unlock a treasure box in the bottom, a working wooden safe!
Additionally, the box tells time in a very unique way. It has an hourglass that is automatically flipped to indicate minutes, and Roman numerals at the top to reveal hours. You can see how it works and how it was assembled in the videos below!
I wanted to create a unique piece of furniture for my home which my guests could interact with. This time however, I wanted it to be something which I wouldn't have to explain how it worked. Instead, I wanted mysterious scriptures scribed all over the sculpture to intrigue my guests.

At the heart of GoonieBox is of course an Arduino… Effortlessly whisking away my artistically written 0's and 1's into a symphony of movement, sound and game play. Taking approximately 800 hours of build time, GoonieBox is my greatest accomplishment by far in the world of Arduino.
You can find more information on the project's Hackster.io posting, or check out the author's interesting Dr.Duino product page.