Sneak peek on the new, web-based Arduino Create
—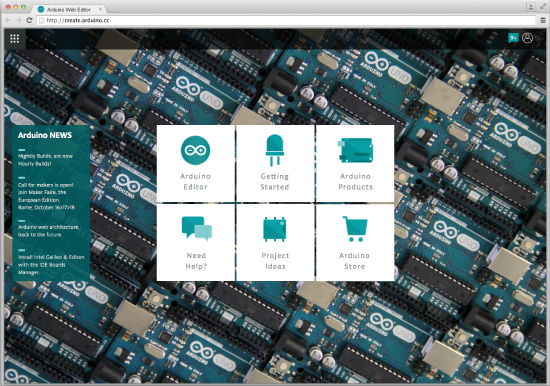 We always stress the fact that Arduino is not only a matter of hardware. Arduino has two other important pieces, the software and the community. We recently wrote about an improved Arduino Software (IDE) and how we moved from nightly builds to hourly builds, thanks to the help of our programmers and contributors. Now we want to add more power to the community and its capacity to create amazing projects.
In the past year we have been incredibly busy designing a new Arduino web-based tool, Arduino Create. It's an important step in the Arduino ecosystem that (we hope) is going to change the way you interact with your projects and the community.
Over the years we gathered a lot of feedback both when running workshops in schools and maker spaces, and when reading comments on the Forum and other social networks. We understood we needed to provide the Arduino community with a more modern and flexible tool to write code, a more integrated way of accessing content and learning while doing, an easier way to setup and configure tools and boards, and a better way to share Arduino projects.
More and more products traditionally delivered as desktop apps are being moved to online platforms, and we see an opportunity in this. Arduino Create is a set of online tools that will make working with Arduino even more seamless and smooth.
First of all you will be able to write code and upload sketches to any Arduino board directly from the browser with the Arduino Web Editor (IDE), without having to install anything. Your Sketchbook will be stored on the Arduino Cloud and will be accessible from any device. The Getting Started app will allow you to easily configure and setup tools and boards available around you. Services provided by partners such as Temboo will be just one click away and better integrated with your workflow.
Arduino Create will simplify building a project as a whole, without having to switch between many different tools to manage the all the aspects of whatever you are making.
In this past year we focused our effort mainly in the Arduino Web Editor, but we really want to concentrate on content next, providing you with a curated set of projects and tutorials to get you inspired.
Our team, together with ToDo, developed a pilot version of Arduino Create for the Arduino TRE board.
We did a lot of research to design and develop this new web-platform right. We started with paper prototyping and co-creation sessions in the local Fablab, 6-months later we had around 150 Arduino TRE beta-testers giving us feedback on both the software, and the overall user experience of the product. 8 months into the project, in the Arduino Workshop area within Maker Faire Rome, we conducted about 25 user-testing sessions to refine some usability details. Talking with a great variety of people is always key in our design and development process, since Arduino has to fit the needs of users with a big skill-set range, from total beginners to experts.
We are now in the process of making Arduino Create reachable by anyone on a browser via www.arduino.cc. This post is a sneak peak on this effort.
Here some of the features of Arduino Create (some still in the works*):
Integration with the Arduino account, just sign in to access the web IDE
Your Sketchbook on the Arduino Cloud, available anytime from any device
A guided walkthrough to setup and configure Arduino Create for the first time
Latest version of the Arduino Web Editor (based on ACE), the board cores, and the libraries, always available without having to install anything
Auto-discovery of boards and ports available around you, selectable in one single dropdown
Examples presented with Schematics and Layout details
A Readme tab included in each sketch so that you can add some project's details, if comments on your code gets too verbose
Ability to add custom Schematics and Layout PNGs to your sketch, so that you have in one place the all basic elements of your project
Better integration with Language Reference* and Glossary
Ability to share a sketch and embed it in your webpage or blog*
Notification area to be always up-to-date with the latest news (new library or core, new feature available, etc)*
Video tutorials and Help resources available directly within the Editor*
Of course we will continue to develop and improve the desktop Arduino IDE, this online version will give us an opportunity to test new features and provide users with a more cohesive experience when making projects with Arduino.
In mid June we plan to start a beta-testing program of Arduino Create, stay tuned for updates!