Monitoring glaciers at the Venice 14th International Architecture Exhibition
—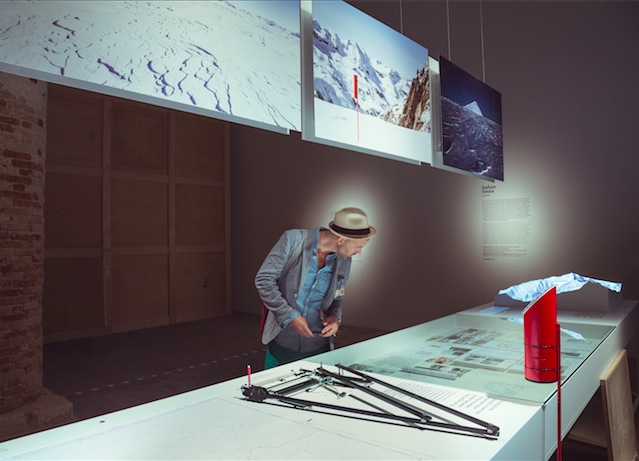 Glaciers are the largest moving objects on earth and the  glacier on the Austria's sixth highest summit called Simulaun  is the protagonist of an installation awarded a Special Mention by the Jury of the 14th International Architecture Exhibition of La Biennale di Venezia.
On May 4th, 2014, the Italian Limes team installed a network of solar-powered GPS units on the surface of the Similaun glacier, following a 1-km-long section of the border between Italy and Austria, in order to monitor the movements of the ice sheet throughout the duration of the exhibition at the Corderie dell'Arsenale.

The geographic coordinates collected by the sensors are broadcasted and stored every hour on a remote server via a satellite connection. An automated drawing machine—controlled by an Arduino board and programmed with Processing—has been specifically designed to translated the coordinates received from the sensors into a real- time representation of the shifts in the border. The drawing machine operates automatically and can be activated on request by every visitor, who can collect a customized and unique map of the border between Italy and Austria, produced on the exact moment of his visit to the exhibition.

Italian Limes is a project by Folder (Marco Ferrari, Elisa Pasqual) with Pietro Leoni (interaction design), Delfino Sisto Legnani (photography), Dawid Górny, Alex Rothera, Angelo Semeraro (projection mapping), Alessandro Mason (production coordination), Claudia Mainardi.
Italian Limes has been supported by Fablab Torino, Favini, FaberSum, Intergrafica Verona, LAC–Litografia Artistica Cartografica.