It's time to enjoy the Arduino Yún: now available for purchase!
—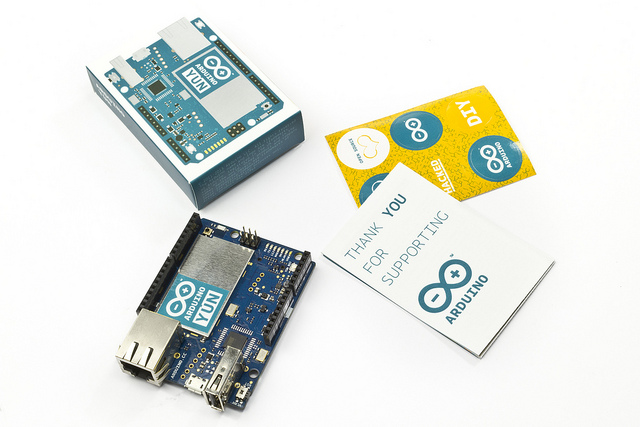 We are extremely happy to announce the availability of the Arduino Yún in our store at the price of 69$/52€ (vat not included) and distributors worldwide.
The Arduino Yún is the combination of a classic Arduino Leonardo with a Wifi system-on-a-chip running Linino. It's based on the ATMega32u4 microcontroller and on the Atheros AR9331 running Linino, a customized version of OpenWRT, the most used Linux distribution for embedded devices.
Alongside the new board, we are also releasing the new Arduino IDE Version 1.5.4 (available now for download) featuring support for Arduino Yún, some new features, and general bug fixes. The new features include:
Board recognition: every time you connect an Arduino board, the IDE recognizes the type of board you are working with
Memory: when you upload a sketch, the IDE tells you how much memory you are using
Copy Error button: you can more easily copy and paste errors to share them in the forum
A few days ago we published a couple of blog posts to give you an overview of the Yún's hardware and the Bridge library, describing how it facilitates communication between the two processors. In the following weeks, we'll keep sharing new content from some friends who are playing with it right now and can't wait to give their feedback and show of what they've been working on using the Yun's features.
As many of you already know, the Arduino Yún comes loaded with the power of Temboo, an innovative startup which provides normalized access to 100+ APIs, databases, and code utilities from a single point of contact: Tomorrow we'll be posting on the blog how you can start using Temboo to mix and match data coming from multiple platforms (for example, Facebook, Foursquare, Dropbox, FedEx and PayPal to name a few).
Also, If you are going to be at Maker Faire New York on September 21 & 22, come and visit us at the Electronics Stage as Tom Igoe of the Arduino Team presents "Getting Started with the Arduino Yún"!
That's all for now. If you want interact with the community and keep talking about the Arduino Yún, join us in the forum!