A cake maker with a passion for engineering and Daft Punk
—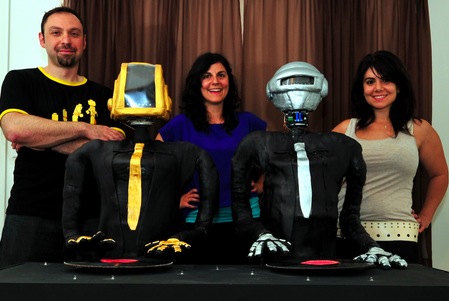 Shantal Der Boghosian is the owner and cake decorator of Shakar Bakery, but also an engineer and a chemist based in Los Angeles California. She recently wrote us to share her 5ft (152cm) tall tribute cake for Daft Punk, the French electronic music duo, and created together with her sister and Garen (coder).
The cool thing about this project is that the bodies of the band are made of cake and the heads move at the rhythm of the track "Get Lucky", controlled by Arduino Mega.
This project took 2 months to design, over 100 hours to build the structure and another 100 hours spent on the electronics, programming, and mechanics . We had a lot of bumps in the road and we worked through every single one. This was the first time I ever built a cake structure, the first time I sculpted with rice krispies, and the first time I built a cake on such a massive scale! This was Garen's first time coding an Arduino servo, and creating head motions that defied weight restraints! I have to admit that we did a last minute surgery to the silver helmet to make the "no" motion more fluid.
Enjoy the video below and take a look at her detailed blogpost with all the phases of the complex yummy construction!