You have 3 ways to meet Massimo Banzi in the UK!
—
Massimo Banzi and the Arduino Pro team will be crossing the Channel soon for a short tour of Southern England, touching base with long-time partners and meeting many new Arduino fans!
On July 11th at 4PM BST, Massimo has been invited to give a Tech Talk at Arm's headquarters in Cambridge, as part of the company's ongoing series where "leading experts cover topics across the industry, including artificial intelligence, automotive, consumer technology, infrastructure, and IoT." Register now to attend the talk remotely, anywhere in the world.
Fancy a pint and a fireside chat? Come and meet us in London at the Cittie of Yorke, July 12th at 6PM in Holborn. You can learn about Arduino's latest products and future vision, straight from the co-founder himself. The event is free and no registration is required, but admission will be regulated depending on the venue's capacity – get there early to save your seat!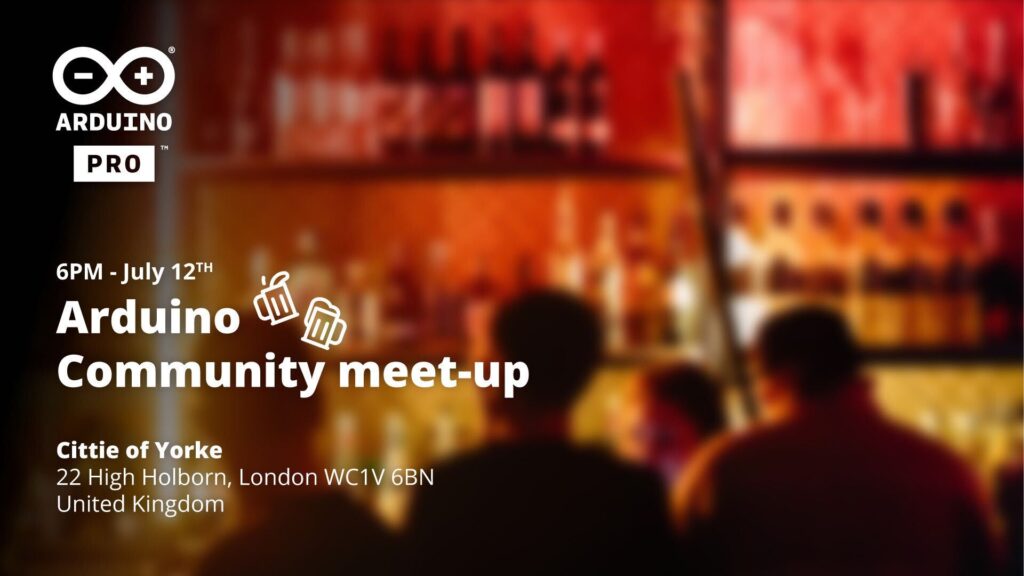 Finally, on July 13th we are excited to announce Arduino Pro will debut with a booth at Hardware Pioneers Max. Come visit us at the Business Design Center in London, booth #48, to chat with our experts. Not sure where to begin? Our demos make great conversation starters! At the show, look for these:
An industrial-grade computer built with a Portenta X8 and Max Carrier. The X8's hybrid combination of microprocessor and microcontroller yields unprecedented flexibility to simultaneously run Linux apps and perform real-time tasks. Pair that with the Max Carrier and an 8″ screen and you have a secure and powerful computer to deploy advanced AI algorithms and ML on the edge. The Portenta X8 can also act as a multi-protocol gateway: data from onsite sensors and controllers (e.g. temperature, operation time, warning codes) are collected and processed thanks to the module's supported industrial protocols, then sent to the Cloud or ERP system via Wi-Fi, LoRa®, NB/IoT or LTE Cat.M1.
A vibration-based condition monitoring system to detect anomalies with Nicla Sense ME. Developed in collaboration with SensiML, this solution makes great use of Nicla's self-learning AI smart sensor – with integrated accelerometer and gyroscope – to measure vibrations generated by a computer fan. With the intelligence of a trained ML model, the system monitors the fan's conditions and can determine whether it is on or off, if there are any shocks, and even if the airflow is simply sub-optimal.
A solution to monitor vineyard pests, thanks to Nicla Vision and MKR WAN 1310. Smart farming leverages machine vision and valuable data on pest behavior, seasonality, and population size to optimize manual interventions against the dangerous Popillia japonica. Insects are attracted by pheromones inside the trap, where a low-power sensing solution leverages an ML model trained, tested and deployed with Edge Impulse to recognize and count insects, sending real-time data via LoRa® connectivity to the Cloud for remote monitoring.
And don't miss Massimo's talk, "Everything you think you know about Arduino is WRONG" at 4PM (see the event agenda). It's your chance to find out how the brand that made tech accessible for the first generation of makers is now evolving to support a new generation of innovators.
We can't wait to see you there!