Instantly understand 40+ languages, with Speech Recognition Engine
—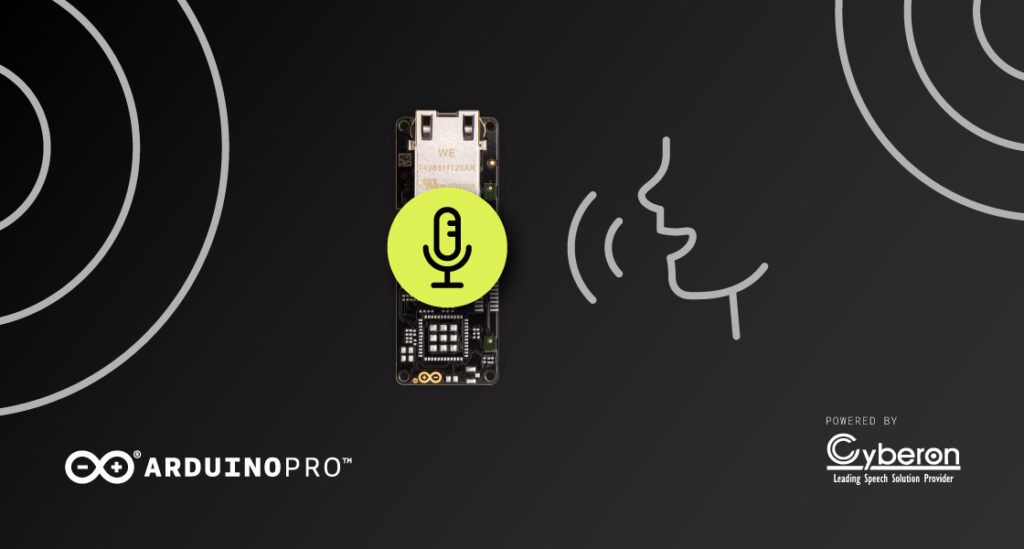 Voice commands are a contactless, hands-free, natural way to interact with devices, equipment, and machines of all kinds: no wonder they are increasingly popular! With speech recognition technology advancing faster than you can say "users expect it," developers often need to find ways to integrate it in their new projects. This, however, requires them to take the time to train a smart device to listen for wake-up words, understand commands… and potentially start over for every new voice or language.
To cut through all the hassle and help you integrate speech recognition in the easiest and fastest way, Arduino Pro has released Speech Recognition Engine: a powerful, ready-to-use and extensive software library born out of the collaboration with worldwide leader in the field, Cyberon. 
Let's break it down:
Widely compatible: Speech Recognition Engine is compatible with various Arduino Nano and Portenta boards as well as with the Arduino IDE, and requires no additional hardware, software or internet connectivity. Integrate it in any new or existing project you have in mind.
Zero training time: Because it uses text input to define voice commands, Speech Engine Recognition translates what you say into instant results, with flexibility over the speaker's actual voice, tone or accent.
It speaks your language: Its AI/ML engine understands commands in 40+ languages. This means you can quickly configure multiple wake-up words and sequences, in any major language spoken in the world.
Great for multiple users: With Speech Recognition Engine, your next smart device will be able to listen to different people without skipping a beat, making it perfect for applications ranging from information kiosks, vending machines and lockers, smart beds in hospitals, emergency call systems, and more. Its ability to filter background noises makes it especially suitable for public spaces and busy factory floors.
Industrial-grade performance: As part of Arduino Pro's growing ecosystem of advanced professional solutions, Speech Recognition Engine was developed for industrial and building automation applications such as hands-free control of machinery, equipment, and devices of all kinds.
You can find out more details from the dedicated page. Or, if you've had enough of the talk and want to quickly and effortlessly integrate speech recognition in your next project, head to the Arduino Store and get started with the Speech Engine Recognition library!