Bring the power of easy connectivity into everyday life and business with the Arduino IoT Cloud
—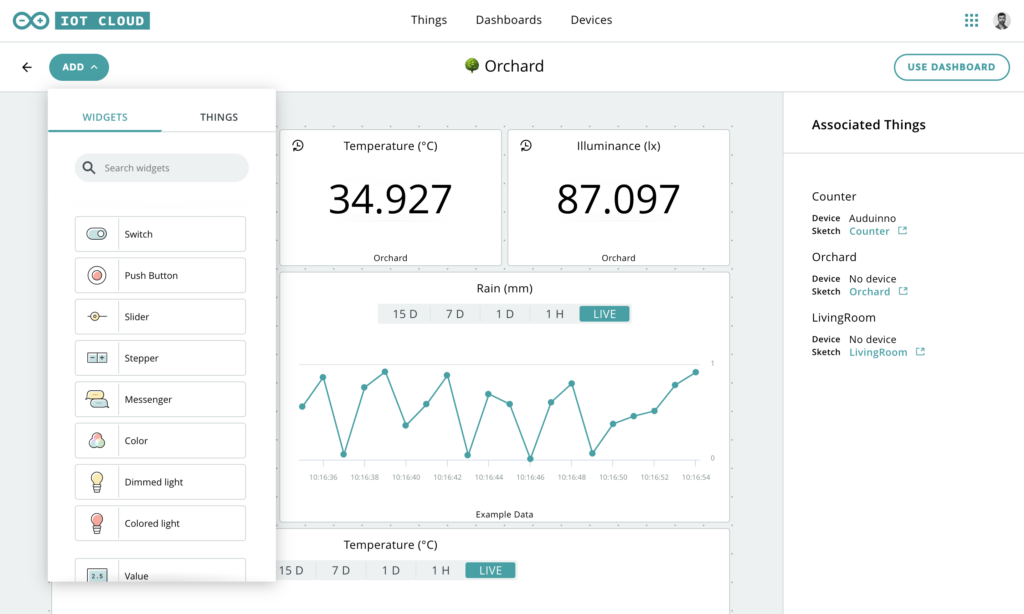 Easy for beginners, fast for professionals! The next phase of Arduino's cloud platform enables everyone to breathe digital life into everyday things.
The full release of Arduino IoT Cloud provides an end-to-end solution that makes building connected projects easy for makers, IoT enthusiasts, and professionals from start to finish.
Arduino IoT Cloud's low-code approach helps you to optimize their workflows and simplify device registration for convenience and flexibility. If you are an advanced user, the platform also enables other methods of interaction, including HTTP REST API, MQTT, command line tools, Javascript, and WebSockets.
The Arduino IoT Cloud offers a range of key features, such as:
Automatically generated code that you can adapt with minimal effort, removing barriers for anyone who is not familiar with coding and empowering makers of all ages and experience.
Easy onboarding that will automatically generate a sketch layout when setting up a new device, so you can edit it right away and quickly go from unboxing to building your project.
'On-the-go' mobile dashboard gives you the ability to access, check data, and control remote sensor monitoring from anywhere using accessible widgets.
Getting started with the Arduino IoT Cloud has never been easier; simply sign up for free today and follow the guides to connect a device to start your project.
Using open hardware and IoT standards, you can send and receive data across multiple connected objects within the platform — making it perfectly suited to professionals that want to manage fleets of devices. Arduino IoT Cloud supports STEM/STEAM learning programs as well. Educators can share sketches with students with pre-existing code that allows entry-level developers to understand and create projects without having any prior coding experience.
You can also upgrade your plan to power-up your tools and access additional features. For USD $6.99 per month, the Create Maker plan lets you connect more 'things,' save more sketches, increase data storage on the cloud, and access unlimited compilation times, plus much more. For businesses, the Create Professional plan provides flexible and scalable options for enterprise solutions.
The platform integrates with Amazon Alexa, Google Sheets, IFTTT, and ZAPIER, so you can program and manage devices using voice, spreadsheets, databases, and automate alerts via webhooks. The platform even enables developers to create custom apps using the Arduino IoT API, with custom endpoint webhooks to be added for enhanced flexibility.
Automatic control of devices through an API puts easy remote management at the heart of the platform. You can manage, configure, and connect not only Arduino hardware, but the vast majority of Linux-based devices easily and securely through a simple Internet connection. Devices are secured using X.509 certificate-based authentication, with further security benefits unlocked by the secure element crypto chips embedded into Arduino IoT-enabled boards.