Work remotely with Arduino Create — get a free upgrade now
—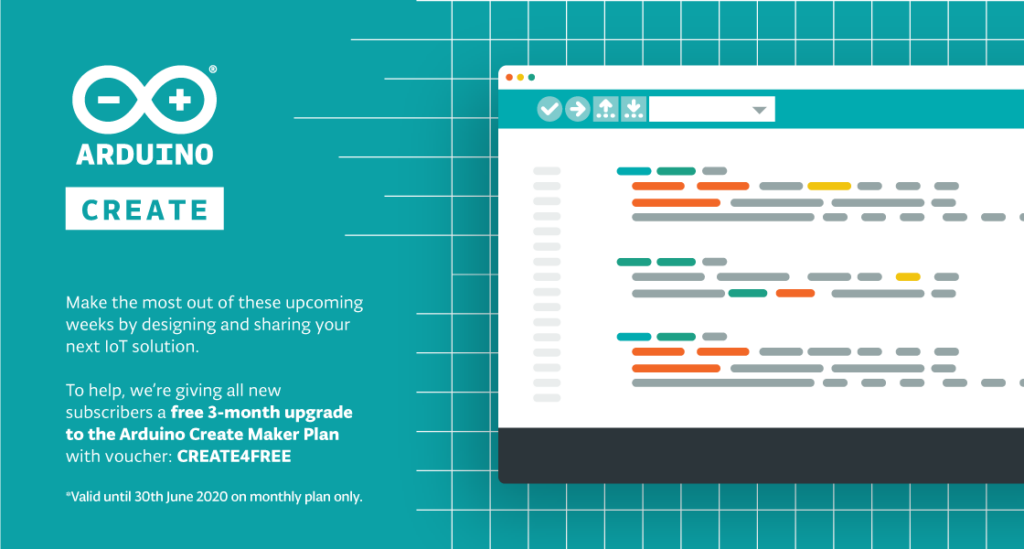 To help individuals work remotely and share their designs with team members, we're providing a free three-month upgrade to the Arduino Create Maker plan to all 1.4 million users of Create as well as new subscribers to the service. With Arduino Create everything is ready to go; there is no need to install libraries and you can quickly share your sketch with teammates via just a URL.
To gain your free three-month upgrade* all you need to do is go to Arduino Create choose the "Maker" plan with the default monthly option and enter the voucher code "CREATE4FREE" during the purchase process.
Arduino Create enables users to write code, access content, configure boards and share projects. Features such as an always up-to-date online IDE and the ability to share builds and receive feedback from other facilities means you can work from home efficiently and effectively. If you don't want to start a project from scratch there's always the option to tap into the power of the community on the Arduino Project Hub by browsing projects and making them your own.
The Maker plan comes with the added benefits of up to 250 sketches allowed in your sketchbook along with 200MB space to store those sketches and libraries. You can manage more connected objects (five 'things') with up to 20 properties per 'thing,' enabling the development of complete IoT solutions. Automating processes remotely is further enabled by the Maker plan including access to set up and remotely control 5 of each cloud enabled Arduino board, three cloud-enabled Linux devices, and one cloud-enabled generic third-party board.
Find out more details about Arduino Create and all the features included in the Maker plan here.
*The free 3-month upgrade to Create Maker is applicable to the monthly plan and is limited to new subscribers only. Voucher code "CREATE4FREE" expires June 30th, 2020. 
Please note the first monthly payment will start three months after you purchase the plan, and you are able to cancel your subscription at any time.