Take a break from coding and take VisionMobile's developer survey
—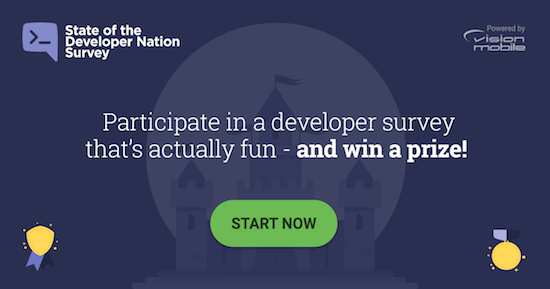 Our friends at VisionMobile have just launched their 12th developer survey, focusing on a 360-view of developer tools, skills and salaries.
The State of the Developer Nation Survey features questions on topics like programming languages, platforms, app categories, new technologies, revenue models, IoT verticals, and more. Not to mention, this 15-minute survey is actually fun! Based on your responses, you'll get a personalized profile showing what type of developer you are, and what kind of character you'd be in a fantasy world. A mage? A fighter? A dragon slayer?
After completing the survey, you'll get the chance to see how your answers compare to other developers in your country. Participants can even win one of several prizes, which include a MeccaNoid G15 KS, an Apple Watch Series 2, an Oculus Rift headset, a Pixel Phone, and Udemy courses, among many other awesome things.
Ready to get started? Take the survey here! You'll also be the first to receive the State of the Developer Nation report (due out March 2017).