Smart sock augments existing prostheses' abilities
—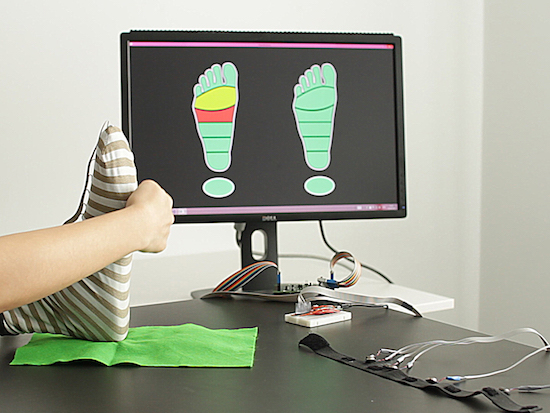 Developed by researchers at the University of Applied Sciences in Linz, the proCover is a sensor-enabled smart sock that adds sensations to current prosthetic limbs.
Although work on more advanced prostheses continues, commercially available limbs still lack tactile feedback. The proCover addresses this not by modifying or replacing the prosthesis, but by using a sock with piezoresistive force sensors embedded in it. This allows for the user to tell where on a foot it's being touched, as well as the pressure applied, and it can be set up to suit a user's needs.
Feedback is provided by vibrating rings that can also be placed on a user's body where convenient. A version that detects how far a prosthetic knee is bent has also been tested.
The design and construction of prostheses that can emulate a natural sense of touch is of growing research interest. Over the last few decades, a number of solutions have been developed for the detection of pressure, slip, heat and texture… However, many of the exciting innovations in this field will likely remain out of reach for most people due to a multitude of factors pertaining to cost, accessibility, health status, and personal attitudes towards elective surgery. We introduce proCover, a low-cost sensing wearable in the form of a textile sock that can be applied retroactively to lower-limb prosthetics to make sensing capabilities more broadly accessible to those who rely on these assistive devices.
You can find more information in the project's 12-page paper or in this TechCrunch article for a slightly shorter summary.
(Photos: Media Interaction Lab)