VW builds an incredible Internet-connected RC track
—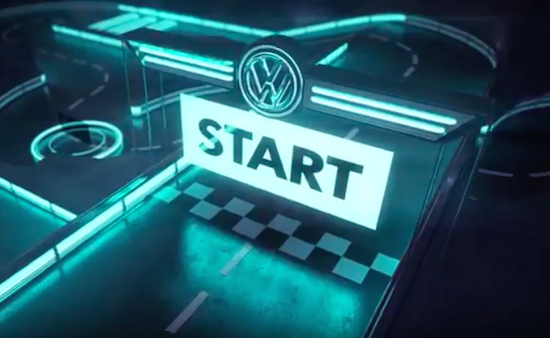 When the Golf GTI and the Jetta GLI were born, Volkswagen packed both with turbocharged engines, precision performance, and a whole lot of vroom. But aside from their stylish exteriors, a rivalry between the vehicles was forged. And, what better way to settle this rivalry than with a massive RC car race on a custom, Tron-like track?
As part of their "Rival Road: GTI vs. GLI" virtual experience, Volkswagen built a giant 1,800 square-foot track equipped with illuminated walls, low-polygon-looking mountains, and nine Arduino-powered obstacles (connected to a laser-etched control panel) that are activated by viewers on Twitch. These barriers include everything from a turntable that spins the cars around, to whack-a-mole-style pillars that pop up randomly, to rumble strips.
From July 26-27th, fans can tune in to the live stream to support their favorite team and vote on the obstacles that'll be raised from the track to thwart opponents. The RC Golf GTI and Jetta GLI vehicles will be operated by professional RC drivers Tanner Foust and Scott Speed.
Pretty sweet, right? Jalopnik had the chance to get a firsthand look at the project, where Volkswagen showed off everything from how it was made to how it works.