Keyboardio joins Arduino AtHeart Program
—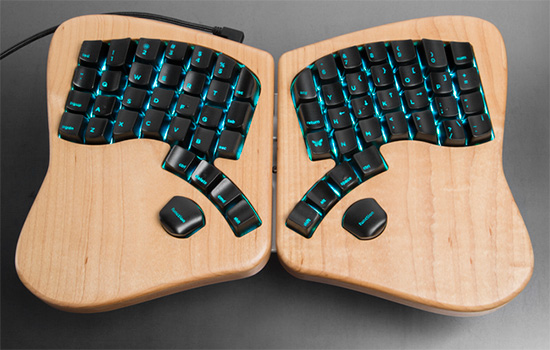 After two and a half years of work and dozens of prototypes, Kaia Dekker and Jesse Vincent have launched Keyboardio Model 01 on Kickstarter: an heirloom-grade mechanical keyboard designed for serious typists.
As you'll see from the video presentation below, the Model 01 is not just a keyboard. Kaia and Jesse actually re-envisioned the way we type to make it feel great. On top of that it has a beautiful hardwood enclosure and it ships with source code and a screwdriver. The Model 01's firmware is a regular Arduino sketch you can explore and change yourself.
The project reached its target in the first few hours and you have a few more days to get one!

In the meantime they also joined the Arduino AtHeart Program to make it fully customizable with the Arduino IDE:
We've built the Model 01 around the same ATmega32U4 microcontroller that Arduino uses in the Arduino Leonardo. Early on, we figured we'd eventually switch away to a cheaper ARM microcontroller, but then we fell in love with just how easy Arduino makes it for a new programmer to get up to speed. For all intents and purposes, the Model 01's brain is a regular Arduino. You can update your keyboard from the Arduino IDE. If you want to make your keyboard do something special, there are thousands of Arduino resources online to help you out.
Learn more about Keyboardio on Kickstarter, where you can pre-order it and support Jesse & Kaia, who made it with love (and just a bit of obsession).