Making it a special XMas on the Arduino Store with Gift Guides
—
Regardless of your budget, time and flair, there's a perfect choice for your friends and relatives this year. We created a 4 Gift Guides to help you find the best solution for everyone. You can check below and find out also some good news regarding free shipping (check at the end of the blogpost!).
Kids
Christmas is the time of the year when people focus the most on kids and family. And never like today we have the chance to give a present that opens up new worlds for our little ones.
I'm talking about the experience you have playing with littleBits Base Kit for the first time. Kids and teenagers get really excited when playing with Bare Conductive Pen, Voltage Village, Glowing House, or the TV-B-Gone Kit designed to shut off any TV. Those products are like an entire universe hiding in a box!
Explore the gift guide dedicated to kids
IoT & Connectivity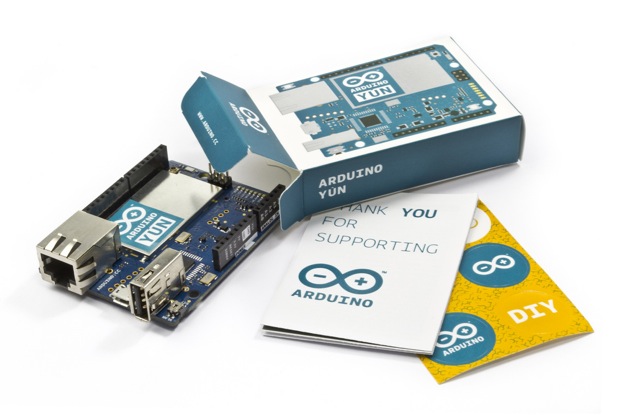 IoT and connected devices got extremely popular this year, so if you've got coders and startuppers on your gift list, these ideas could be perfect for them. In this gift guide you'll find a selected list for different tastes.
From the well known Arduino Yún to the Annikken Andee for Android smartphones designed to make mobile integration simple, you can learn how to build Wireless Sensor Networks and test the power of Bluetooth 4.0 Low Energy with Blend Micro.
Explore the gift guide dedicated to IoT
Home Lab
Some people say that in the future our homes will be fully automated, with refrigerators ordering your milk when it's over, and other gizmos enabling the materialisation of a truly smart home. Is this what we want? Probably we're not sure yet, but there are a few tools that will make you feel like you have a home lab.
Starting from a Materia 101 kit to 3D print cool decorations for Christmas, you can take your holiday time to build it with the help of some friends. Or use some quiet days to dive in the world of electronics exploring Make Electronics book by Charles Platt, or tinkering with some components you've never had time to explore like the Arduino Wireless SD Proto Shield or the Tinkerkit DMX Receiver.
Explore the gift guide dedicated to Home Lab
Fashion Tech
Fashion and tech are closer than ever these days. Textile sensors make every interactive project comfortable to wear, and easy to prototype. Soft potentiometers, Textile push buttons, Stretch sensors connected to an Arduino Lilypad are the best components to explore this promising field. You can begin with the Open Softwear book 2nd edition plus the Easy Wearable Kit and then move forward with  yellow EL-Wires to brighten your winter. If you want to explore new approaches not related with electronics, then try the DIY alternative to print on fabrics using light with Lumi KIT Red or Blu.
Explore the gift guide dedicated to Fashion
---
Arduino Store is now offering FREE SHIPPING to Europe via GLS for all orders over €100, below 3 Kg overall weight. GLS delivery will take 4-5 working days to reach you. In December, this may take longer due to end-of-the-year seasonality. Should you need delivery by Dec. 24th, we strongly advice you to place the order before Dec. 15th. Learn more about shipping