See you at Fab10! 2-8 July in Barcelona – #fab10
—


This year the  international event for digital manufacturing comes to Barcelona to celebrate 10 years of sharing experiences and the evolution of the project. Ever since the first meeting of digital manufacturing experts was held in 2004, in Boston, until FAB10 today, these meetings have been travelling around the world spreading ideas and receiving support.
FAB10 is organised by the Institute of Advanced Architecture of Catalonia (IaaC). Hábitat Urbano from Barcelona City Council, the Center for Bits and Atoms, of the Massachusetts Institute of Technology (MIT) and the Fab Foundation, both in Boston, have worked in close collaboration.
Fab 10 is divided in 3 main areas and Arduino will participate to the event with different talks and workshops:
– Fab Conference – From the 2nd to the 4th of July every day the international Fab Labs will meet up to exchange experiences in small-scale conferences and workshops. Check the complete schedule here.
– Fab Festival – during the weekend on the 5th and 6th adults and children are invited to enjoy the conferences, workshops and activities open to the public. Book your workshop and attend a talk.
– Fab City Symposium – On 7 July there will be a meeting of international experts in digital manufacturing, with the presence of Neil Gershenfeld, Bill McDonough, Ellen MacArthur, Bruce Sterling and many more. Massimo Banzi's keynote "Making Maker Communities" is scheduled at 11am.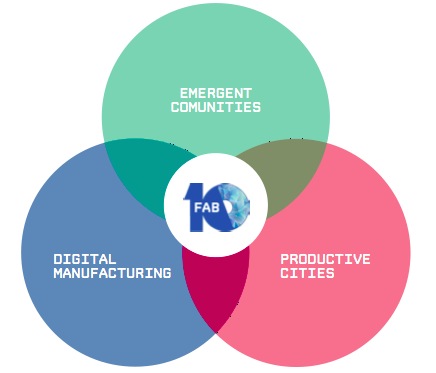 FAB10 in Barcelona is going to focus on the subject From Fab Labs to Fab Cities, thus initiating the worldwide project for productive cities, cities that have used sustainability to reindustrialise themselves. The activities of this event will be based on three main issues: Emerging Communities, Digital Manufacturing and Productive Cities. The specialists will discuss what a city with Fab Labs in every district, where people can produce anything they want, could be like. Will the city of the future be self-sufficient? Will it reuse materials? Will buildings be capable of managing their own energy? All these issues will be discussed during FAB10 and we'll be happy to meet you there!
Arduino Workshops at FabFestival:
Saturday
– Arduino Basic Arduino – Serena Cangiano
WORKSHOP @ 17:00 – 20:00 SAT, 5 JUL
Smart Lighting, make an Arduino intelligent lamp! This basic workshop will introduce participants to Arduino's world : you'll learn to write a code, then with a board, a led and few sensor you'll build your interactive lamp.
– Arduino and Wearables – Zoe Romano, Costantino Bongiorno
WORKSHOP @ 17:30 – 19:30 SAT, 5 JUL
Arduino goes wearable! Fashion and geek victims will learn how to cut, sew and connect sensors with Arduino!
Sunday
– Arduino IOT Arduino – Mirco Piccin, Davide Gomba
WORKSHOP @ 10:00 – 13:00 SUN, 6 JUL
can plants tweet? Yes, with Internet of Things! In this workshop participants will connect a plant with an Arduino Yùn, some sensors and Twitter!
 – Lasercut race! – Enrico Bassi
WORKSHOP @ 13:00 – 15:30 SUN, 6 JUL
Build something is usually pretty fun, but if we're talking about lasercut race cars, it's impossible to not enjoy it! what could be better? tune them after all and challange the other racer!
– Arduino. Sketch your sketch – Pietro Leoni
WORKSHOP @ 17:00 – 19:00 SUN, 6 JUL
do you know how to talk to machines? it's like being in a foreign country: you just have to know the right language. Everybody will see how to talk to a DIY plotter that will write on a sheet of paper, what you code on a PC.
– E-jewels Arduino – Maicol, Luca Berardi
WORKSHOP @ 17:00 – 19:00 SUN, 6 JUL
Jewels are not just for girls and electronics not just for boys. during this brief workshop you will learn how to solder and make your first electronic jewel.
– Make ideas Fly – Enrico Bassi
WORKSHOP @ 17:00 – 19:00 SUN, 6 JUL
How is going to be the king of the sky? Who can win all the ability and distance competitions? Let's make together the paper airplane, test them with the automatic launchpads and improve the projects. then it's time to make your ideas fly! build the most precise, the quicker or the one flying further away, to win the 3D printed prizes!