Growing your veggies with a smart greenhouse called MEG
—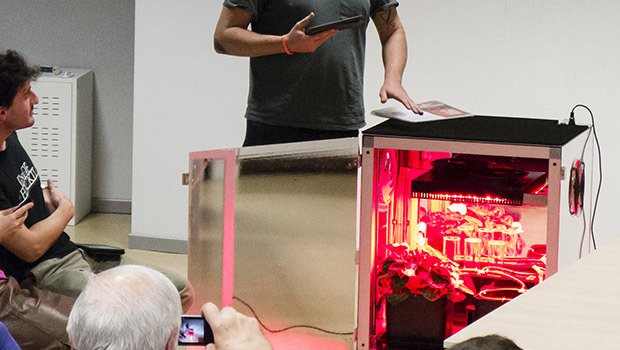 MEG is the world's first social and automated greenhouse, part machine and part community, now on Kickstarter. Carlo D'Alesio and Piero Santoro, the designer duo based in Milan presented the prototype  at Maker Faire Rome and also at a PopupMakers event last year.
MEG means Micro Experimental Growing system, runs on an Arduino MEGA 2560 which controls an automated "light engine," water and nutrient tank, fans and sensors monitoring humidity, temperature, and pH. It's smart because if you are not really good with growing plants, you can crowdsource parameters from other gardeners: your neighbour's tomatoes won't be more red than yours!
Last saturday they celebrated Arduino Day in Milan and launched the campaign right there with us, where I took a couple of pictures of the prototype!