29th of March Arduino Day: we are ready to celebrate with more than 240 events #ArduinoD14
—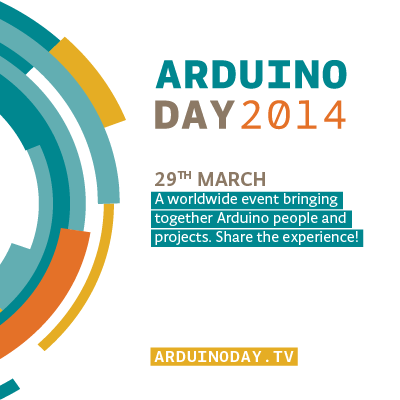 Arduino is having a worldwide anniversary event on March 29th bringing together the people and projects that have helped it grow to where it is today. This celebration of Arduino and its community is a day of official and self-organised gatherings, encouraging people to meet and share their interest with neighbors and friends.
More than 240 user groups, makerspaces, hackerspaces, fablabs, schools, studios, and educators around the world have planned unique activities designed for a wide range of audiences and skillsets.
We have created a map to identify all the community events going on throughout Europe, North and South America, Asia, Africa, and Australia. Find an event near you at http://arduinoday.tv
The official events
Starting the evening of friday March 28th, IDEO New York is hosting PopUpMakers, a monthly event started in Milan that catalyzes connections and collaborations in the local Makers' movement.
On Saturday the official Arduino Day events are the following:
Arduino Day will end with a special edition hangout on Air from Adafruit offices with Massimo Banzi, Arduino co-founder.
Other online events:
– Enter to Win the Maker Faire Rome Arduino Challenge at Make
– Join the Arduino Anniversary "Give Me 10!" Contest & Win an Arduino Uno at Element14
To make this event a truly connected experience share your pics and comments using the hashtag: #ArduinoD14
UPDATED!
Are you streaming from your Arduino Day Community event? Add the link in the comments!
Community LiveStreams:
– Portugal (Lisbon): MOSS – Mestrado em Open Source