Time to "Hack the Arduino Robot" – second phase
—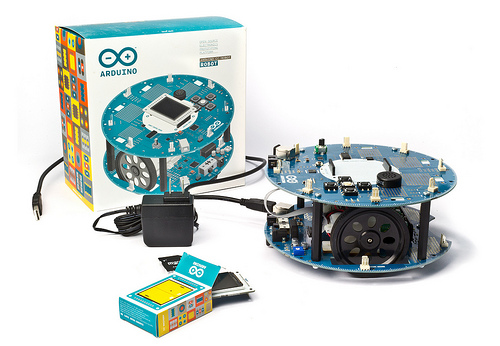 RobotChallenge staff updated us with some numbers regarding the "Hack the Arduino Robot" competition launched at the end of January and sponsored by RS Components. They received 58 submissions from 20 different countries of the world! 10 projects were then selected by an international Jury composed by David Cuartielles (Arduino), David Tarrant (RS Components, Design Spark), Karim Jafarmadar (INNOC) and Pavel Petrovic (Robotika.sk).
Now it's time for the second phase. They are going to receive an Arduino Robot each, implement  the project they submitted and  publish the results (including a short video) by the 23rd of February.
The 10 projects selected are the following:
"I plan to design and 3D-print different legs for the robot, so that it can be placed in a dock and the rotation of the wheels can enable it to 'walk'. The primary goal would be to design and print a spider-legs (octopod) or beetle-legs (hexapod) attachment, enabling the robot able to travel on uneven surfaces such as grass. After this has been tested and is functional I would like to add sensors to the legs to enable me to design optimal walking attachments with maximal efficiency, as well as explore the use sensors on the feet to measure things such as such as moisture/temperature/rigidity of the surface and potentially adjust the walk cycle to suit the conditions."
 An under floor doctor / Naoki Fujihara
"My proposal is using an Arduino robot as an extermination of harmful insects machine for house. In Japan, there are white ants or rats under floor of houses . These under floor sometimes unsanitary but workers have to into there and exterminate them. I want to solve this real life problem. My idea is mounting on some items on an Arduino robot as follows: a camera for catching situation in real-time and a function to put pest poison or traps on a appropriate place. And some sensors that can measure humidity whether the under floor condition is a room for improvement. With an Arduino robot's smallness and mobility, this idea can be a good solution."
"The Energy saver robot will travel round its location detecting the number of lights that are on and windows that are open and rooms that are unused, temperature, drafts, cold spots, carbon monoxide, co2 or other hazardous substances. Energybot will tweets/message to the owner to remind them to be more energy efficient and of any impending dangers. It also records data to allow the user to find out how efficient and safe each area is over time. Energybot helps to keep running costs low and automates the experience of chasing my family to shut the window!. Energybot keeps an eye on heating efficiency, average temperature, energy consumption by room and helps me to maximise the usage of my energy."
"Pets often feel alone at home when their guardians are out for work. RoboPet is a robot companion for pets. It is able to play sounds either pre-recorder or directly streamed from the guardian smartphone. The guardian can control the robot remotely using a simple web browser or a smartphone. RoboPet is also equipped with a camera and a laser pointer to interact with the pet."
 AWBB – ArduWellBeingBot / Florent Brodziak
"This small autonomous robot, free to move itself in a place is able to measure surrounding environment quality. It can track humidity, temperature, ambient noise and light, Air quality in the way to map and classify this place as a pleasant or nasty for humans. All the data can be consulted via internet on a map indicating the place location and a note. This robot could be used for example in public places (Mall, Railway Station , Airport, Park…) where people needs or want to stay for a moment. It will allow people to find the best place for them, for their health and it will imply more place's responsible to improve the environment quality."
 Eyeduino / Eduard Petrenko
"Let your Arduino robot see the world! An idea is to capture low-resolution image (estimation is 32×32 black&white) from analog camera using some kind of video sync separator like Texas Instruments LM1881 and some comparator schema. We plan to use prototype regions on the robot's control plate to mount the schema. Modern technical vision approach requires more powerful CPU and much more memory for image processing, but for some tasks low resolution seems to be enough. We plan to demonstrate this by exercises like dotted line following and "cockroach hunting" – following some little movement changing target. We expect this approach to be an effective introduction step into technical vision in robotics."
"I would build a Hide and Seek Robot: We create a set of hiding places, draw lines and feed the location data into the robot. At the start of the game, you close your eyes and count up to 20. The robot will go and hide somewhere. You will start a timer on the robot as you finish 20. You have to find the robot and stop the timer within a certain period to win that round. The game makes robots look more human. It will be a teaching aid and we could add sensory experience to influence the robot in selection of hiding place. This data could be analyzed for insight into decision making process."
"The PendelBot has oversized wheels (diameter ~30-40cm), so that the Robot in between them acts as a pendulum. A battery pack underneath the motor board ensures that the center of weight is extentric. When the motors accelerate the wheels, the torque turns the chassis in the opposite direction. An acceleration sensor will limit the angle of the chassis to 90°. The robot can be remotely controlled via bluetooth by an app on an android device. This app uses yaw and pitch angles of the device to control the robots speed and direction. This setup can work as pendulum or inverted pendulum (thus posing as a mini segway(c))."
Battery robot / Sebastian Groza
"Arduino robot will be used as a core for a used battery collector system (robot). Robot can be mount on top of a usual battery collector container and will have a receptacle for used batteries. Arduino robot is used to sort the batteries by size, AA, AAA and others. AA and AAA batteries will be harvested for remaining power with a step-up converter. Recovered energy is used for charging a backup accumulator, power a LED banner or even charging the robot. After complete depletion, batteries are dumped in collector container along with other battery types."
Garment Transporter / Jacob Glueck
"A couple of years ago, I built an Arduino-powered shirt-folding machine which folds clothes. Using the Arduino robot from the RobotChallenge, I will build a device to remove folded clothes from the machine and to stack them. My idea is special because it will involve two Arduinos (the Arduino Uno in the shirt folder, and the Arduino robot) which will have to communicate, and because it will be very useful. The robot will solve the real life problem of laundry folding by making the task easier and faster and by doing so nicely; the robot will use a custom-designed gripper to transport garments while keeping them perfectly folded."
Two projects will receive an award donated by RS Components:
– Best project & documentation Award
– Community Award.
Check this PDF to discover the details and the cool prizes are visible in the pic below!