Program a Yún without writing code! Temboo's Sketch Builder
—

Today's guest blogger Vaughn Shinall from Temboo's team updates us with a new feature to ease your way into smart homes.
————————-
Choose your sensor, choose what action you want it to trigger, and voila–your  Arduino Yún is doing it. Sending texts when a light sensor detects night, logging temperature data to a Google spreadsheet while you're away, calling you when it sees an intruder in your home.
With our new Sketch Builder you can program your Yún to do all these things and more in no time. After choosing from multiple sensor types and actions, you can set the conditions and pins for your set up and have the code generated in an instant right on Temboo's website. Then it's just a simple copy-paste-upload job, and you're on your way.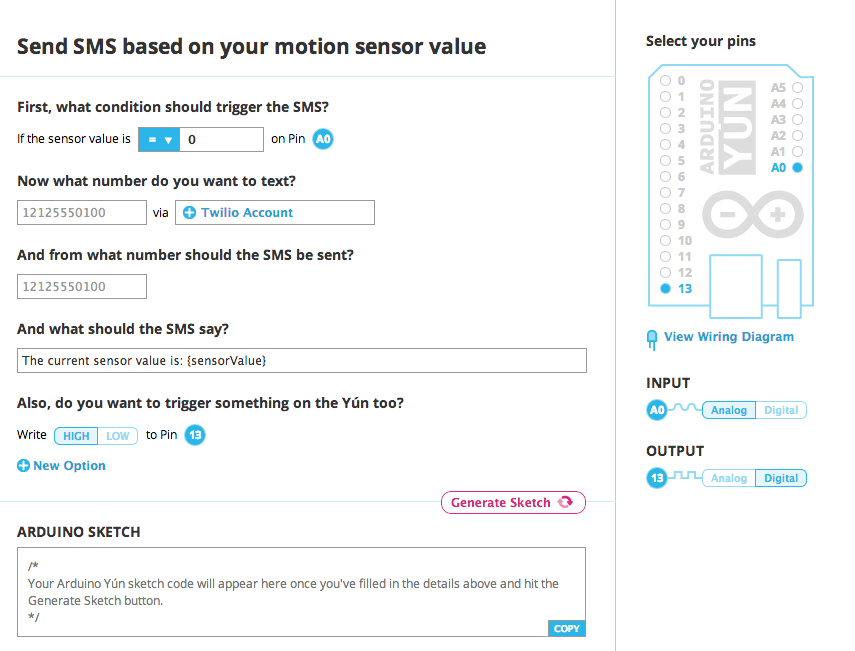 Go give the Sketch Builder a try today. Support for more sensor types and actions are on the way, so let us know what you'd like us to add.
Watch the Sketch Builder in action:
PS – You should also check out this cool Arduino Yún project where the user managed to get Temboo running straight from the board's Linux distribution by installing the Temboo Python SDK on the Yún.