Measuring pollution and health: wearable project wins a prize
—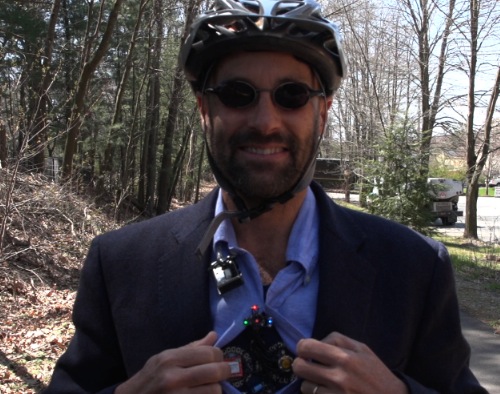 My Air, My Health was the title of a Challenge calling innovators to work on a wearable project integrating air-quality measurement with heart rate and breathing.
The promoters of the challenge, the U.S. Environmental Protection Agency (EPA) and the National Institute of Environmental Health Services (NIH), launched it because they think that the possibility of understanding the relations between air pollution and people's health in real-time could have an important impact in preventing disease and illness in the population. In the description you can read:
The required system design must be capable of linking air pollutant concentrations with physiological data, providing geocoded and time-stamped files in an easy to use format, and transmitting this data via existing networks to a central data repository. Due to the interdisciplinary nature of this challenge, solvers are highly encouraged to form teams drawing on multiple relevant expertise…
At the beginning of June they finally announced the winner of the prize of $100.000, it's called Conscious Clothing and is a project developed by David Kuller, Gabrielle Savage Dockterman, and Dot Kelly.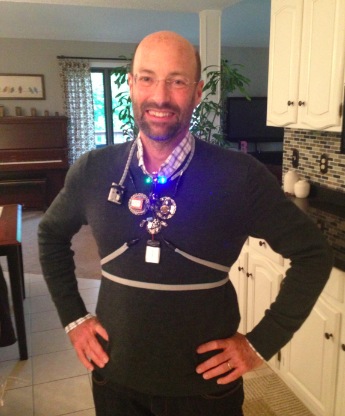 The team created a system around self data-tracking, specifically calculating particulate matter inhaled and collecting basic health data,  transmitting them real-time to any Bluetooth-enabled device and allow their visualization in different format.  The prototype was made using Arduino Lilypad connected to a particulate matter air sensor that hangs near the neck and a series of stretchy strips of silver-knitted yarn wrapping around the chest to measure breathing.
We had a chat with David (in the pictures), who developed both hardware and software, and asked him what was, in his opinion the feature which made them win: " I think that Conscious Clothing was the project that was most comfortable, truly wearable and also affordable, compared to the others".
You can watch  the video below to see the prototype in action!
Photo Courtesy of Angel Devil Productions, Inc. and Conscious ClothingTM