Some notes from the Smart Textiles Salon
—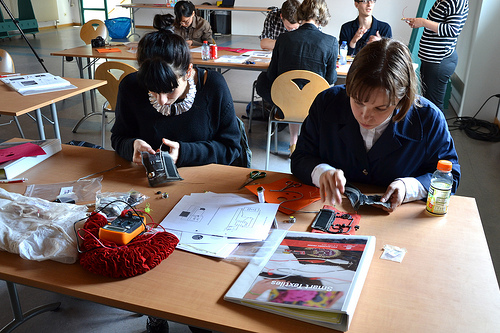 Smart Textiles Salon was the last event of the Smart Textiles Week organized by the Textile department of the University of Ghent in the beautiful town of Ghent, in Belgium at the beginning of June:
Smart Textiles Salon is an attempt to bring topical research in the field of Smart Textiles to the stage and showcase it to the world. We wanted to make clear that Smart Textiles are not only existing in research projects, but that the potential for market introduction is huge already today. This should be recognized and taken to the next level.
Our friends Riccardo Marchesi (Inntex and Plug&wear) and Giulia Tomasello (Ruah project), took part to the event and sent us a short report  highlighting with words and pictures some cool projects they encountered during the days at the Salon.
The Smart Textiles Week started with a three-day workshop during which prof. Lieva Van Langenhove (part of the organizing committee) and her staff illustrated the latest technologies and achievements in this field of research. There was also a practical workshop, during which participants challenged themselves to assemble a soft fabric circuit.
At Smart Textiles Salon, part of the Systex European action to demonstrate the potential of smart textiles, 70 people from major Universities, Research Labs, design studios and companies, met to show their prototypes and to discuss about their new achievements, each of them being textile-based or compatible with intelligent textile systems.
The following is a list of selected design-oriented projects that brought us  to your attention:
– UNLACE, by Eef Lubbers from TU/e, winner of the Systex Student Award 2012, is an interactive lace lingerie garment that allows partners to connect by becoming more aware of touch, time and warmth.
– Soft/Mesh, by Olga Sjöroos and Jussi Mikkonen, from Aalto University, that created 3D printed structure as a relatively equal subsitute to a fabric.
– PeR+ by Eva Deckers, from TU/e, that developed an interactive and intelligent carpet, sensitive to the activity of the person.
– Strokes&Dots, by Valérie Lamontagne, that introduced her line of smart garments designed to be DIY-assembled
– Your Balance, by Barbro Scholz, an interactive, textile jewelry with the inspiration taken from insects.
– Baroesque Barometric Skirt, by Rain Ashford from Goldsmiths University of London, a skirt able to visualize environmental data collected from four sensors.
– Trasendense, by Galina Mihaleva, Nanyang Technological University, an interactive dress that communicates with its wearer by translating the body's movement into a corresponding light pattern.
– Solar Fiber, by Marina Toeters and others, a flexible photovoltaic fiber able to transform sunlight energy into electrical energy.
You can have a look at more pictures on this flickr gallery.
Thanks to Giulia for the pictures and Riccardo for the text!