Arduino, Php, Lcds, Xbees: Tactical Texting In Public Spaces
—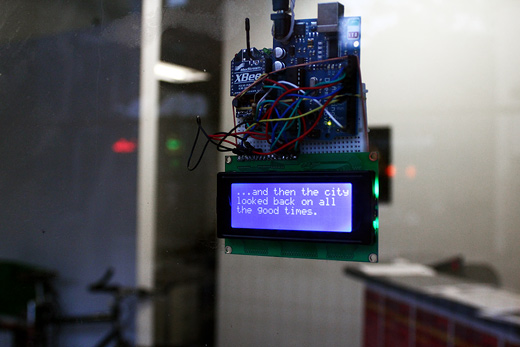 It's been quite a long time since I'm following this project. Now [Michael] came to a certain level of stability and shared his thoughts (and codes) for our personal benefit:
While the adventure in working on this project began months ago, I've finally sorted through the mess of files I made and put it all together in a nice handy zip folder. Using Arduinos, XBees, LCDs, and PHP, this project was challenging from a technical stand-point, but I think the project is now at a place where it can act as a foundation for a number of other projects I'm hoping to take on.

While the most-recent installation of this project was on view as part of SRSI, I'm already looking at the Arduino-TVOut library dreaming of what to do next.
I have to find some time to read back again all the project.
via [BrockenCityLabs]