Some of the biggest ways home automation is changing in 2023
—
Home automation is exploding in popularity.
In 2021, the average household had 25 connected devices, a massive increase on previous years, driven in no small part by the COVID-19 pandemic and lockdowns. And in 2023, the number of smart homes worldwide looks set to hit 195.8 million.
We're living through a fascinating time for technology in general, with new breakthroughs hitting the headlines all the time, and the home automation industry is especially exciting.
In this article, we'll dive into some of the main ways home automation is changing in 2023, some of the biggest current trends, and what's on the horizon.
Emerging trends in home automation in 2023
2023 so far has been a big year for home automation, and there looks to be more to come. Let's take a look at some of the most interesting emerging trends this year.
Voice assistants and natural language processing
Voice assistants are multiplying rapidly, with the global population expected to hit 150 million this year.
On top of that, the tech behind these gadgets is also developing fast, with new features emerging all the time. Today's voice assistants are already a far cry from the first few generations of Amazon Alexa gadgets, and are capable of integrating with multiple devices and recognizing a range of different voices.
Edge computing and local processing
"Edge computing" refers to when data processing and analysis take place closer to the source of data generation (locally) rather than on centralized cloud servers somewhere else.
In the context of home automation, this means IoT devices can process the data they generate right there and then. This has a number of advantages, such as:
Low latency, because the data doesn't have to travel all the way to a data center and back. This means tasks can be performed much quicker, and even in real-time.
Better bandwidth efficiency and reduced costs because only relevant information is shared over the network.
Better scalability, making it easier to add more devices to your smart home network.
Let's check out a few examples of edge computing at work in smart homes.
Voice assistants like Amazon Echos with built-in processing capabilities are capable of handling voice commands locally, making them much more responsive and able to function smoothly even with the internet connection is unstable.
Security cameras can analyze video footage locally instead of sending that data to the cloud for analysis. This makes it easier to detect and report suspicious activity with much faster response times.
Managing things like lighting and temperature even when offline, keeping your working and living spaces in the most comfortable state at all times.
AI and machine learning
AI is a hot topic right now, and at times it can be hard to separate the truly exciting developments from the hype.
When it comes to home automation, though, AI holds a ton of promise.
Energy efficiency: AI can track the energy usage in your smart home appliances and make adjustments to ensure nothing is being wasted. It can also detect problems and unusual activity and take steps to correct any issues.
AI can add a touch of personalization to your smart home by learning your preferences and making automatic adjustments to things like temperature, lighting, and music.
Predictive maintenance: AI can monitor your smart home devices and predict when faults and issues are about to occur, helping you avoid outages and make repairs before they're needed.
Sustainable and eco-friendly automation
We already briefly talked about how technologies like AI can help your smart home devices function more efficiently. In fact, smart heating and cooling systems, used correctly, can save users 50% of their energy consumption in some cases.
But that's not the only way home automation can help you live more sustainably. For example, you can integrate your smart home with green energy sources like solar — something that's becoming more common around the world.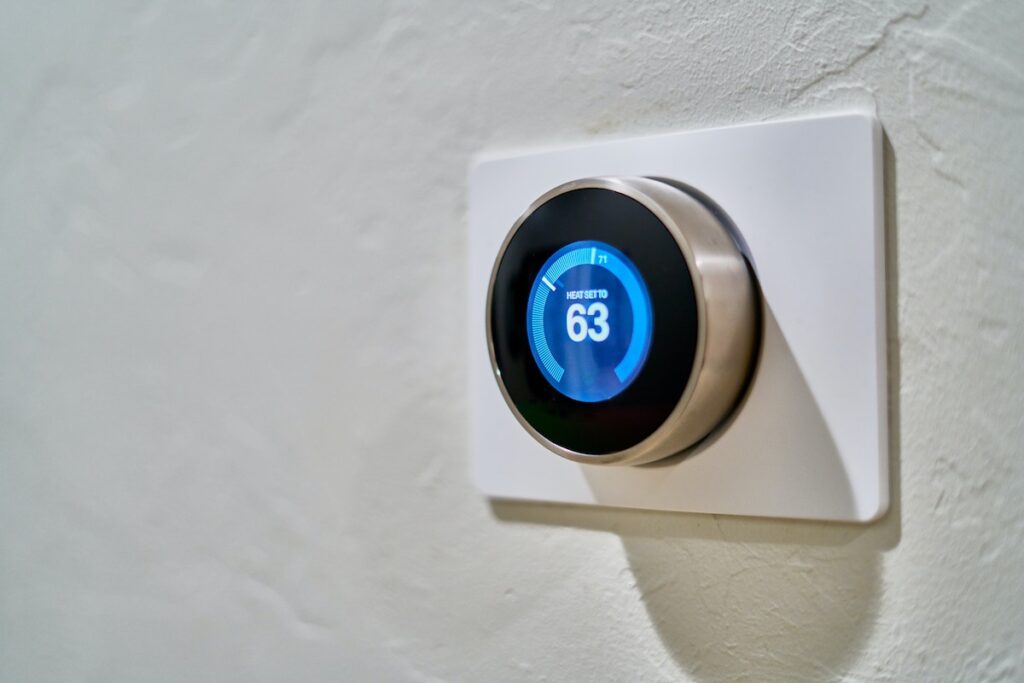 What's in store for the near future?
Now we've explored a few of the exciting things happening in home automation right now, let's turn our gaze to the near future.
What can smart home owners look forward to over the next few years? This is where things get really interesting, as the rapid development of smart technologies mean things are changing fast.
Continued growth of 5G
5G technology looks set to grow in both popularity and sophistication throughout the next decade.
According to Ericsson's 2022 Mobility Report, 5G subscriptions will reach 4.4 billion globally by the end of 2027, and account for around 48% of total mobile subscriptions.
For smart home owners, this means even faster connectivity, lower latency, and support for increasingly powerful and sophisticated IoT devices that aren't possible just yet, as well as the opportunity to build more complex and connected smart home networks.
Augmented reality and virtual reality in smart homes
The AR and VR market is expected to grow at a compound annual rate of 13.72% between 2023 and 2027, which has a ton of exciting implications for home automation.
One example here is smart home maintenance. Augmented reality apps can make it much easier to repair faulty devices by providing real-time, 3D instructions that are far clearer than any manual or YouTube tutorial. AR can also be used to improve home design by helping you visualize how new furniture, decorations, and layouts will look before committing to them.
Even better security and privacy features
Keeping our families, homes, and possessions safe is always going to be a primary concern, and smart technology here is developing in some really interesting ways.
One example is the use of biometric tech to improve home security. The global biometrics market is projected to hit $83 billion by 2027, with voice recognition alone expected to reach $27 billion.
What does this mean for smart homes? Biometrics can be used to identify people with extremely accurate levels of precision, allowing you to enter your home with just your fingerprint, a scan of your iris, or even a voice command — while keeping everyone else out.
Other promising trends in smart home security include advances in data encryption and privacy controls to keep your IoT devices secure.
AI-powered home health monitoring
Keeping track of your vital signs and health metrics is more than just a hobby for fitness enthusiasts — for older people and those with health issues it can literally be life-saving.
Wearable devices like smart watches can track key health data, issue reminders to take medication, and alert emergency services when things go wrong. These devices can even be used to monitor individuals' movement patterns and predict falls and other accidents.
We're still some way off fully automated health care, but this is a step in the right direction.
Entire smart cities
Cities around the world are getting bigger, and that means they need to get smarter.
Home automation isn't just for houses and apartments — it can be scaled up to the size of a city, a trend which is well underway. The global smart cities market is expected to grow at an annual compound rate of 13.13% until at least 2028.
Smart cities use technology like 5G, the Internet of Things, and AI to build more efficient, safe, and pleasant environments for millions of people to share. These technologies drive features such as:
Better connectivity for everyone, like accessible WiFi anywhere in the city including on transport.
More efficient and better-connected public transport systems, including more intelligent traffic management based on constant monitoring using sensors.
More efficient usage of energy, based on tracking usage and minimizing wastage.
Better waste management, using sensors to measure how full waste bins are and issuing alerts when it's time to empty them.
Staying ahead of the smart home curve
With so much happening so fast, with no signs of slowing down, staying up-to-date with home automation tech can feel like an impossible task.
However, there's a lot you can do to ensure you stay ahead of the curve and access these incredible benefits as they roll onto the market. Let's check out a few ideas.
Keep your network current
Your home automation devices are only as good as the network they run on. That means a robust and up-to-date home network is one of the best investments you can make in your smart home.
Consider upgrading to a Wi-Fi 6 router, or the even more advanced 6E router. This will open up new possibilities when it comes to 5G and bring a new level of speed and slickness to your IoT network.
Another option is to set up a mesh network — a collection of connectivity sources around your home instead of a single router — to provide better coverage.
Keep your devices maintained
With the rate at which home automation technology is advancing, devices that were brand new just a few years ago are quickly becoming outdated.
This is especially true for firmware — it's essential to keep your devices updated at all times to ensure they're optimally secure and can take advantage of new features and capabilities.
Remember that your devices won't last forever, and have some kind of plan in place to review and replace any older technology.
Stay informed
One of the best ways to keep pace with the rapidly changing world of home automation is to join online communities and attend events.
Of course, it's not always feasible to travel huge distances to attend conferences and expos just to learn more about your smart home devices, but you can learn a lot from joining the right forums and online groups. These can help you get quick answers to questions, gain inspiration for future projects, and stay up to date with all the latest news and advice.
Here are some ideas:
There's also an extensive list of Facebook groups, YouTube channels, and blogs to explore, and specific technologies and devices often have their own dedicated support groups and online spaces.
Get into DIY
What better way to access the next generation of home automation technology than to build it yourself?
Today it's easier than ever for total amateurs to build their own IoT devices and home automation projects, with nothing more than some simple components and a bit of basic coding knowledge.
At Arduino, we help people get started with their own home automation journey. Our products are built to help everyone from complete beginners to advanced makers create their own smart home technology and share it with the world.
Contact us to learn more about this and how to get started.