Star Wars-themed device monitors indoor environmental conditions
—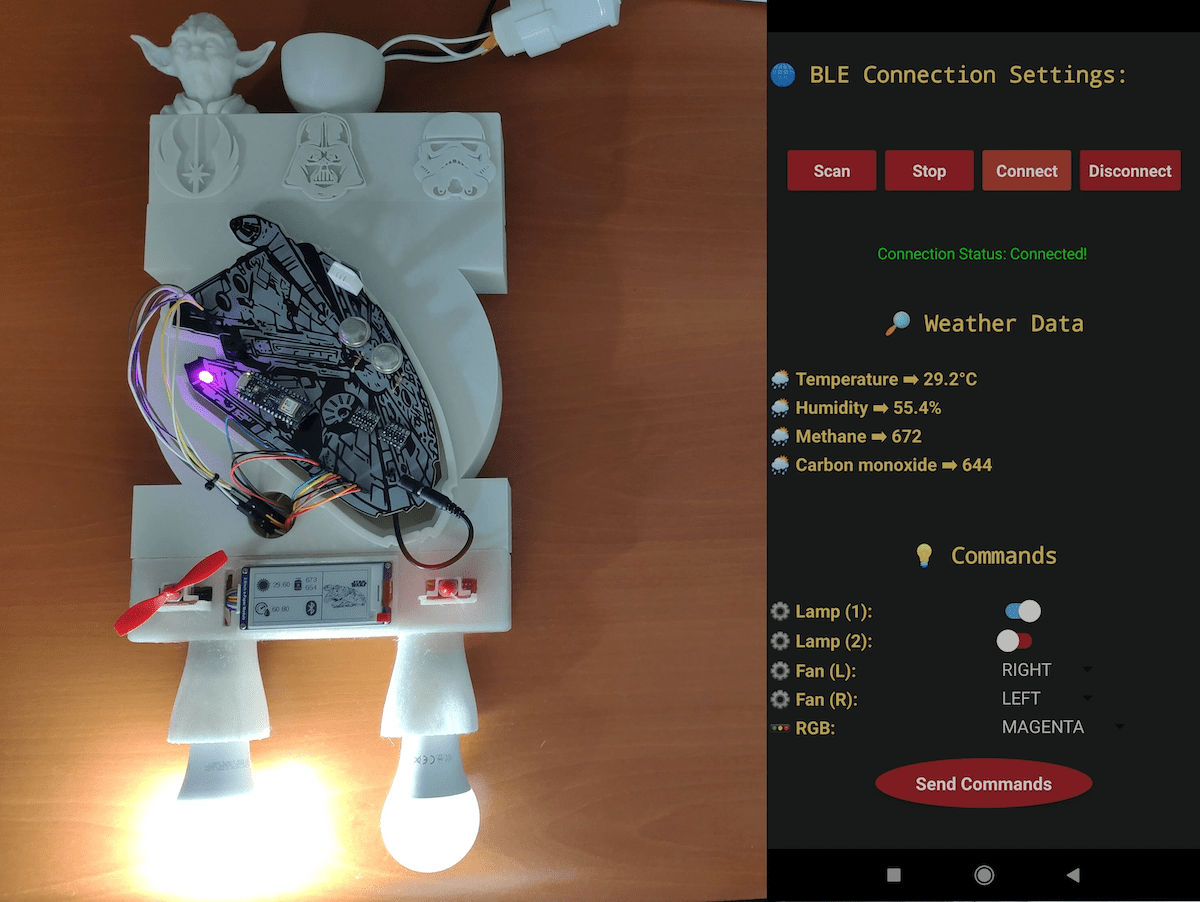 We don't need to tell you that Star Wars is a wildly popular franchise. If you include all of the movies, video games, novels, theme park attractions, and so on, it is the fifth-highest-grossing media franchise of all time (somehow just behind Winnie the Pooh). Because of its popularity, Star Wars themes find their way into every facet of life. But fan Kutluhan Aktar took that in a surprising direction when he built this Bluetooth®-enabled, Star Wars-style weather and gas station.
We don't mean a gas station for pumping fuel, but rather a system that monitors indoor environmental gasses, like methane and carbon monoxide, along with climate information like temperature and humidity. Aktar chose to design the device with a Star Wars look and feel, which includes a Millennium Falcon PCB and a 3D-printed Yoda bust, but that theme has little to do with the functionality. In addition to gathering environmental data, this device can illuminate a pair of light bulbs, control RGB LED lighting in the room, and spin a pair of fans. Those outputs are configurable as indicators that correspond to the environmental data. A small E Ink display shows relevant data, which is also accessible via a smartphone.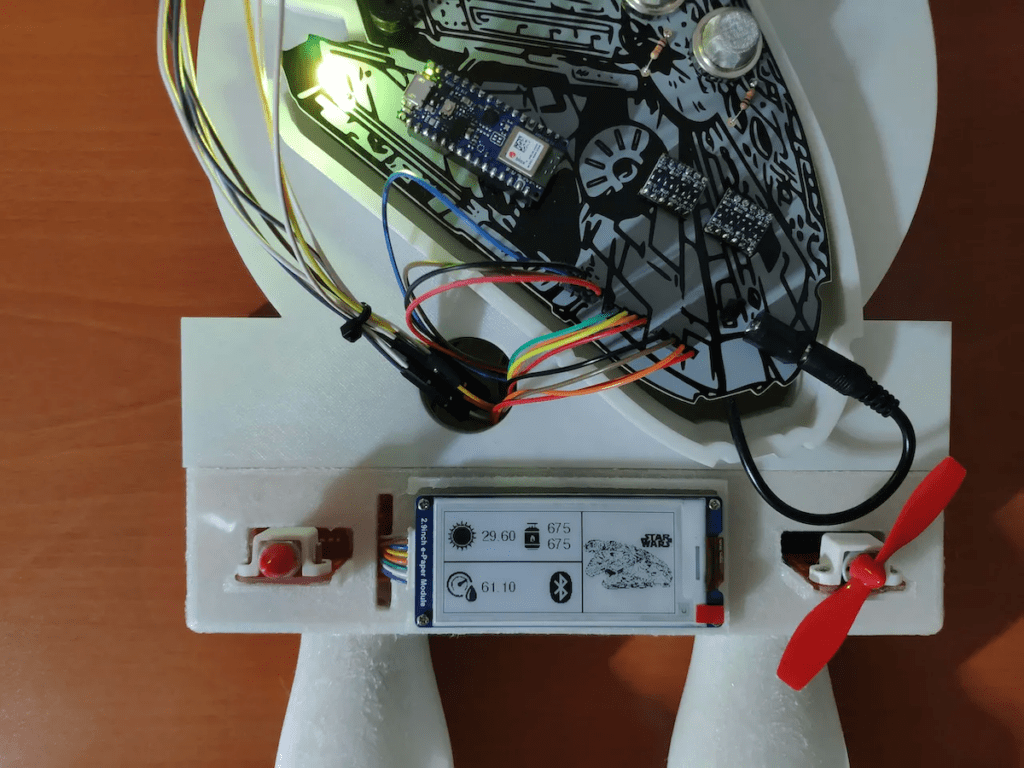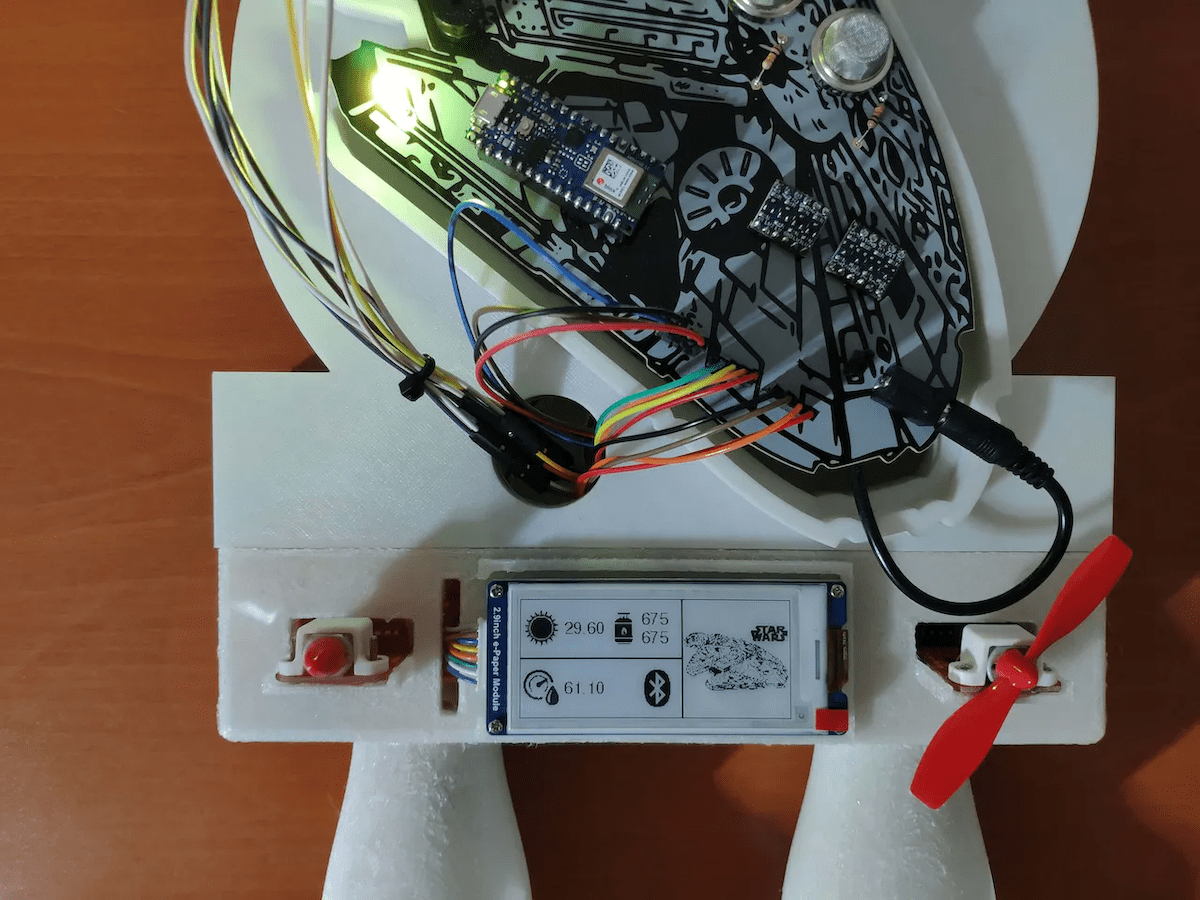 The custom Millennium Falcon PCB, which Aktar designed in KiCAD, acts as a breakout board for an Arduino Nano 33 BLE that controls the other components. Those components include an Adafruit DHT22 temperature and humidity sensor, MQ-4 and MQ-7 air quality sensors, relays for the light bulbs, fan motors, and a 2.9" Waveshare ePaper Module. Aktar designed the enclosure in Autodesk Fusion 360 and then 3D-printed it on a Creality CR-200B 3D printer. Because the Arduino has a built-in Bluetooth adapter, Aktar was able to create a smartphone app that connects to the device via BLE (Bluetooth Low Energy) to send control commands and receive environmental data.